Selling
Sell Us Your Restaurant Equipment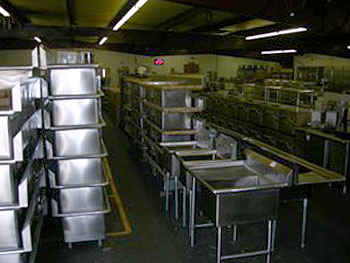 Main Auction Services wants to buy your used restaurant equipment, commercial kitchen equipment, bar equipment, bakery equipment, or an inventory of restaurant supplies or small wares.
If you have any questions about possibly selling any commercial restaurant equipment or inventory we invite you call us right now. In Dallas call 972-642-0513 or in Irving call 972-579-4612 today.
Main Auction Services has several options available to you including:
• A direct purchase offer of your inventory or equipment
• Consignment of your inventory or equipment for auction
Main Auction Services is always looking for additional inventory of good used items to sell in the online auctions. Our Restaurant Equipment Specialists are always ready to meet with you and discuss your inventory list to determine a fair offer. Please call us first in Dallas at 972-642-0513 or Irving at 972-579-4612.

As a restaurant owner, food & beverage manager, or business owner, you may need to sell your restaurant equipment because you are closing or replacing equipment with upgraded units. Main Auction Services is interested in buying your older equipment, particularly if it is a top brand and in good working condition. We will make you a fair offer and handle the arrangements for shipping.
You can also consign your equipment to Main Auction Service to be included in one of our upcoming online auctions. Simply deliver your equipment directly to one of our warehouse, complete some simple paperwork and we'll take it from there. Call Main Auction Services to arrange for a representative to visit your facility for a full evaluation of your equipment.
If you are also interested in buying additional equipment to replace items you are selling, we do carry new equipment lines with manufacturers warranties. Installations, space planning, consultation, electrical, refrigeration and restoration services are also additional options that can be discussed if you have the need. Call us today. We look forward to hearing from you.
Don't forget to sign up for our Auction Alerts Newsletter on the left. This will keep you informed about items currently available for bidding.
Normal 0 false false false EN-US X-NONE X-NONE MicrosoftInternetExplorer4