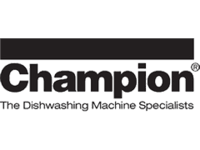 Main Auction Services, Inc., buys and sells the latest food service and restaurant equipment by the world's leading manufacturers such as Champion Industries. Over 120 years of experience in the commercial dishwasher business has earned Champion the reputation of being called "The Dishwashing Machine Specialist." Headquarted in Winston-Salem, North Carolina, Champion remains devoted to excellence - in products, manufacturing, sales and service and in diversity of products.
Champion products carries the ENERGY STAR® qualified logos for their dish machines in all categories. Over the last century, they have perfected every single application and installation requirement for dishwashers, undercounters, doors, racks, flights, conveyor systems, accumulators, disposal, drying of trays, you name it and Champion has provided the most efficient solution. From the smallest glasswasher to the most complex flight machine capable of efficiently cleaning and sanitizing 20,000 wares per hour, it pays to work with Champion. Champion Industries and Bi-line Conveyor Systems combine to provide a truly integrated approach to warewashing, ware handling and waste reduction solutions.Whether you need a large capacity flight-type dishwasher or a compact undercounter dishwasher, Champion can engineer a complete dish handling solution to meet all your needs.
Champion Industries Product Lines: Our Dish Room Products - We offer a wide range of dish room machines designed to meet each foodservice operation's unique needs. With everything from compact undercounter dishwasher machines to waste managment systems, our machines are the key to preparation, cleaning and serving for any size operation.
Undercounter Dishwashers - Compact, Efficient & Versatile
Ideal for small kitchens these quiet, double wall construction machines are available in hi-temp & low-temp models.
Glass Washers - Compact, Cleans & Sanitizes
Ideal for bars and tight spaces, these machines deliver up to 2,000 clean, sanitary and cool glasses per hour.
Door Type - Efficient, Fast & Flexible
Door Type Dishwashers designed for any size foodservice operation, these dependable machines preserve space, water, chemicals and energy.
Rack Conveyors - Space Saving
Designed for the dishroom with limited space, our rack conveyors facilitate energy efficient, high-volume dishwashing.
Flight Machines - Configurable & Efficient
Suited for high production food service operations, these machines can handle as many as 20,000 dishes per hour.
Pot Pan & Rack Washers - Durable, Versatile & Reliable
Our Pot, Pan & Rack Washers are engineered to meet the needs of any food service operation while providing years of dependable service.
Circular Conveyors - Custom-designed
The ideal solution for high-volume operations our conveyors can be custom-designed with a full line of deluxe options.
Trisys Waste Handling System - Free-Standing Self Contained
Waste Handling System designed to process food, paper and other waste into a semi-dry pulp for disposal.
Bi-Line Conveyor Systems - Bi-Line Conveyors specialize in creating custom innovative solutions in automated soiled ware transportation for the foodservice industries.
To Find Out More About High Quality Dishwashing Equipment Click Here: https://www.championindustries.com/