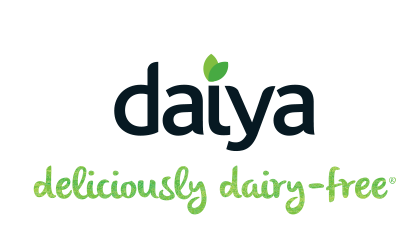 Main Auction Services, Inc., buys and sells the latest food service and restaurant equipment, speciality foods, solutions and application software by the world's leading manufacturers like Dayia
Friends for over 20 years, Andre and Greg share a passion for music, ideation and a plant-based lifestyle. The same passion inspired them to create a delicious dairy-free alternative made entirely from plants.
About Dayia Foods:
Better For Your Lifestyle - No matter what better living means to you, we make it easier to stay true to your healthy ideals. Every Daiya product — from macaroni and cheese to Greek yogurt alternative — is a plant-based, dairy-free alternative disguised as creamy, cheezy deliciousness right there on your plate.
Lactose Intolerant - All Daiya products look, feel and taste just like the real stuff. All that goodness without the lactose. As in nada. Zero. Zilch.
Food Allergies - All Daiya products are free of soy, dairy, gluten, eggs, peanuts. That's right. Get up and do your happy dance.
Vegan and Vegetarian - All Daiya products are free of dairy, free of animal products and certified vegan. Including our cheezecakes. Because we know you love cheezecake.
Healthy Lifestyle - All Daiya products have ingredient lists you can actually pronounce and understand. No hormones, no antibiotics, nothing artificial.
Better For Your Health - A diet that's rich in plant-based foods has all kinds of healthy benefits. In fact, many studies show it can help prevent diabetes, high blood pressure, heart disease and certain cancers. Now that's a whole lot of healthy (and a whole lot of yum).
It started with a simple belief: plant-based living was better for their health, better for the planet and better for animal welfare. As it turns out, Andre and Greg weren't alone in their dream. Millions of others were wishing for the same delicious outcome.
Their perseverance paid off and Daiya Cheddar Style and Mozzarella Style Shreds debuted in 2009 at the Natural Products Expo West. Consumers raved — and plant-based dairy innovation changed forever.
Today, as millions more demand plant-based equivalents to their favorite foods, that spirit of innovation is still a part of Daiya's DNA. In fact, thanks to our amazing R&D team, we now have over 30 great tasting, 100% plant-based alternatives to dairy. And we feel like we're just getting started.
We're innovative, we're compassionate and we love food. We honestly just can't wait to keep bringing you more!