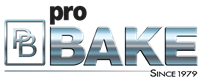 Main Auction Services, Inc., buys and sells the latest food service and restaurant equipment by the world's leading manufacturers such as pro-Bake.
pro-Bake has Since 1979, family-owned proBAKE, Inc. has provided the very best in bakery equipment solutions for retail, commercial, and high-volume industrial bakeries. In addition to providing and servicing the industry's most comprehensive line of equipment and accessories, proBAKE offers personal consultations, custom layouts, and unmatched long-term support.
pro-Bake offers the finest high-quality bakery equipment available while including added value through every avenue possible. Through support and knowledge of the baking industry, pro-bake hopes to maintain our position as the most qualified choice for bakery equipment in North America. Through relationships with our clients, our main goal is to allow for the highest levels of profitable growth through superior expertise, customer service, quality, and commitment.
pro-Bakeprovides the food service industry with a variety of products services that include:
Cookie link
Ovens
Spiral
Bread & Pastry Equipment
Croissant Equipment
chocolate
Water Equipment
blast-freezing
pasta
petfood
used bakery equipment
Additional Equipment Includes:
Cookie Machines
Ovens
Dough Mixers & Bowl Lifts
Bread Equipment
Pastry Equipment
Chocolate Equipment
Pasta Machines
Water Meters & Chillers
Refrigeration & Proofing
Pet Food Equipment
Used Bakery Equipment
Bulk Ingredient Systems:
Macro Ingredient Handling
Minor & Micro Ingredient Handling
Liquid Ingredient Handling
Sugar Processing Systems
Re-Work Processing Systems
Automation & Control Panels
Industrial Production Equipment:
Turn-Key Production Lines
Process Handling
Automatic Mixing Systems
Click Here To Find Out More About proBAKE Inc.