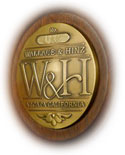 Main Auction Services, Inc., buys and sells the latest food service and restaurant equipment by the world's leading manufacturers such as Wallice & Hinz.
Since 1977, Wallace & Hinz has created uniquely crafted bars for world-class hotels, homes, restaurants and clubs. Inspired by Brunswick-era craftsmanship, they believe that a bar should transform a common environment to create a truly communal and engaging space. What makes a great bar? It's the feel. It's the presence a bar has inside the space it inhabits. The impact it has from across the room and the touch of it, up close. Remember they provide design, shipping and installation services for your locations.
Check out what's new at Wallace & Hinz For Commercial Bars: The Great American Bar Company
Residential Bars

Commercial Bars

Bar Millwork

Bar Equipment

Specialty

Wallace & Hinz Provides Many Types Of Bars:

Hotels

Casinos

Military

Restaurants

Country Clubs

Breweries

Wine Bars

Portable Bars

And More
You'll know it's a Wallace & Hinz original by our unique brass signature medallion. In the finest taverns, in the most prestigious homes, this simple inlaid disc serves as a mark of distinction. It's our promise of superior quality. It's a symbol of new friendships born. And it's a sign that, here in this place, visitors should expect nothing but the best.
From bars to bar furnishings, interiors to exteriors, our craftsmen create environments that are built for interaction. In a place where jokes and friendship ease the burdens of the day, the bar sets the tone. In a place where tales are told and legends are made, the bar provides the backdrop. After all, what are bars if not the first, and still (in our opinion) the best, platform for "social networking."
Find Out More About Wallace & Hinz here. http://www.wallaceandhinz.com/