Increase Marketshare: Market To Families
Parents Say They Visit Family-Style Restaurants Weekly
Would you like to increase your market Share and learn more about your new customers?
Ongoing education by restaurant owners is critical to growth for anyone in the restaurant business. Trying to keep up may seem like a daunting task, but here at Main Auction Services, we can help. Pointing you to the institutions that stay up to date and then release regular reports about those findings is the best way to keep up. One company  Technomic has a lot of information that they release all through the year;  as well as the US Consumer trend reports which can keep you looking and examining statistics that will help to increase customer sales.
Here at Main Auction Services, we are always looking for ways to assist you in helping to create more business and help you add precious dollars to your top line revenues. By learning more about the communities you serve or may want to cater to, Main Auction Services can help you choose the best restaurant equipment and used restaurant equipment to purchase that can fulfill their needs.
Making the right decisions for purchase of restaurant equipment will cater to these new communities of people and help to get them in to eat and expand your consumer base and strengthen your brand. Deciding to stagger your new purchases every quarter means evening out cash flow, preparing over time new ideas to captivate your customers, and offers a process over time that will provide the most growth which can help to stabilize your business.
Take a look at what is going on right now in our industry that will help you discern more quickly.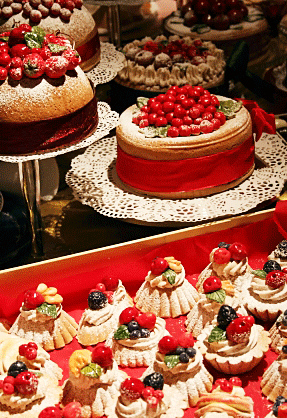 Sources in the Food Service Industry like Technomic agree that opportunities exist for growth among Millennial and Hispanic customers across the board. The Technomic Family Style Restaurant Consumer Trend Report provides the statistics to support this position, but goes a step further by stating that over 49% do visit family style restaurants, and that other segments of the population also frequent these same restaurants.
What does this mean to you? Can we say increased sales...
Additional information gleaned from this industry report could mean new growth every month if you take advantage of the pertinent findings and find a way to market to each group. Simply getting the word out there that you have the family comfort food meals they crave at the right price; and that you cater to kids of all ages can get the new customers you need for 2013. Who knows, maybe adding a Dessert Bar area with beautiful cakes, chocolates, and yummy things like these items on the left could increase take home baked goods and generate traffic every day!

Other pertinent  facts that you may be interested in finding out more about are:


 Forty-five percent of Millennials and 57 percent of Hispanic consumers say they visit family-style restaurants once a week, compared to just 41 percent of all consumers polled. Are you in a neighborhood that can support this demographic?
 Sixty-nine percent of consumers say they are likely to visit family-style concepts when seeking sit-down meals at an affordable price, and roughly half say they'd visit when craving certain menu items (54 percent) or when seeking comfort food (45 percent). Does your lunch and dinner service include comfort food?
 Fifty percent of moms and 34 percent of dads say toys and games for children are highly appealing at these locations. What are some options to consider that may enhance a child's request to come back?
 More than half of parents (56 percent) place high importance on healthy meal options, compared to just half of consumers who say expansive menus for young children, teens and teens are important. Perhaps a new salad bar or dessert bar area could be an option to consider.
 Sixty-one percent of consumers would pay more for items described as fresh; a smaller percentage are willing to pay a premium for other leading health call-outs, such as seasonal, natural, low fat, low calorie and more. Natural foods, vegan options, fresh juices and fruit bars may be the best high profit options in attracting more families in your community.
 Forty-eight percent polled say they would be very likely to try new or unique items or flavors at family-style restaurants. Three out of 10 consumers say they would like family-style restaurants to offer a wider variety of ethnic food items. Consider polling your customers as they visit. Find out exactly what they want and you be the one to invite them back to taste test your new options.
If you have never seen Technomic's Trend Report, here is a summary that will be helpful:
"Family-style restaurants are well-known for attributes that are highly applicable to the family-dining occasion—namely friendly service, a welcoming atmosphere and amenities that appeal specifically to parents dining with children," says Darren Tristano, vice president of Technomic. "But it's also vital for these operators to leverage the importance of affordability, menu craveability and appealing comfort foods in order to attract a broader customer base."
Technomic's Family-Style Restaurant Consumer Trend Report provides comprehensive research on the latest menu and consumer preferences at family-style restaurants organized into three major sections:
Menu Insights – Technomic's exclusive MenuMonitor data is used to provide year-over-year analysis of menu offerings at family-style restaurants, while uncovering current trends in menu development.
Consumer Insights – an examination of consumer definitions, usage, purchasing behavior and preferences for family-style dining occasions based on findings from an exclusive survey from 1,500 consumers
Profiles – appendices feature detailed concept and menu profiles for 15 concepts that reveal how family-style operators are positioning brands and menus to cater to consumers during family-dining occasions.
Technomic publishes a complete library of U.S. consumer trend reports including many topics covering Canadian and U.K. market trends.
Main Auction Services is here to help serve you and your community. Call us today and allow our qualified staff to help you select restaurant equipment that will increase your sales.
Call us here at Main Auction Services, together we can find options to expand for the future…Dallas: 972-642-0513 Houston: 713-690-1231