Food Trucks Can Help
Bar Owners Get Back in Business
Creative Options During Covid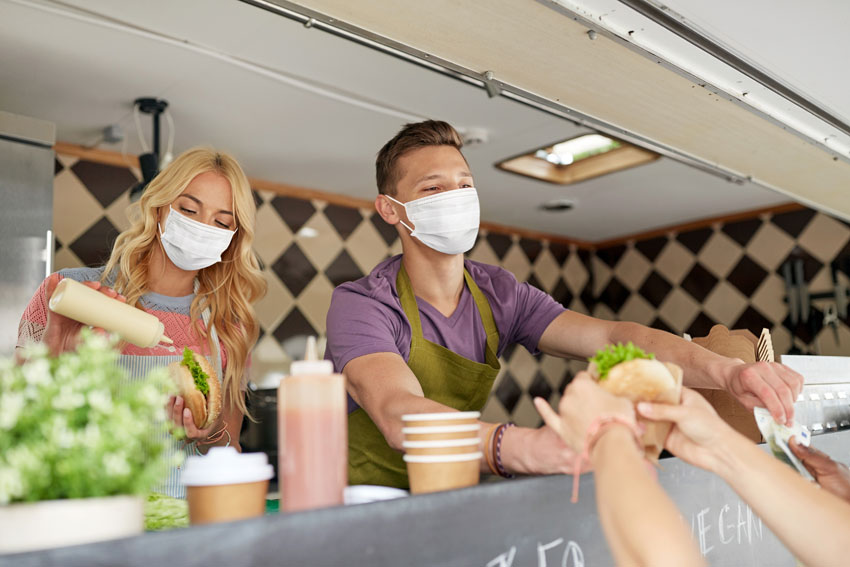 Good common sense has been applied to the bar business. Main Auction Services is putting out there creative ideas for your consideration. And has some specifics in creating advantages by doing so. Find and book your favorite food trucks and food carts with Roaming Hunger, the hub for all things street food and catering. Use the interactive city map to find out where your next meal is parked or book a tasty vendor for your next food or catering event.
Finding and Booking Food Trucks to help bars get back on their feet during the COVID-19 pandemic is a serious idea. Looking for survival for your restaurant during the pandemic can include new options like partnering with the food truck industry. Many restaurants are learning to meet certain government requirements around the need to serve food. Food trucks have exploded in popularity over the last few years in large and small cities. According to IBISWorld, there are 23,873 active food truck businesses in the US and the average industry growth from 2014–2019 was 6.8%. According to Food Truck Nation, food trucks are a $2 billion-plus industry. Who knew right!
Across the country, local governments are requiring that bars serve food if they offer curbside pickup for alcohol. While shortages of funds can prohibit resources to open kitchens, why not tap a local food truck to meet that requirement instead? Consider feeding your community by using easy guides to book and find any food trucks in your area.
Roaming Hunger has reported that they have a network of over 18,000 food trucks across the country. With over 11 years experience booking trucks for private and public events, during these strange times in the pandemic they're working with bars in need of food service by booking trucks at no cost to the owner. According to Bar Business, the sky is the limit.
Advantages Food trucks provide Include:
Food from a controlled, limited-access kitchen, subject to the Health Department's highest scrutiny
No limits to whether to serve breakfast, lunch, brunch, or dinner
Quick and efficient food supply and distribution
Individually prepared meals served in accordance with social distancing protocols
How It Works:
To get the process started, you may want to start by checking out Roaming Hunger, which only needs a few details from bar owners about when and where they'd like the truck to show up. From there, interested food trucks that want to participate will apply through Roaming Hunger's system. Owners can then pick from the available food truck options to choose the best fit for their business and customers. Help has never been so easy.
Owners can choose a food truck for one event or for every day of the week. There's also the option to set up an entire food truck program. Roaming Hunger can help bars build out a complete schedule and actively manage it to make sure the whole thing is a success.
The Marketplace supports social distancing events for your business and has additional options for you to consider regarding the creation of additional revenue streams short or long term. You can buy a food truck, custom build a food truck, or lease a food truck, which are all options for bars, breweries, restaurants and wineries can all benefit by having this experience as you learn about managing the entire process and be able to see what best meets your current restaurant and bar needs.
Remember that Roaming Hunger even handles all of the paperwork (insurance, health permits, etc.) so that bar owners can focus on running their business. A dedicated account manager will also provide any needed support to ensure everything goes smoothly.
If renting a food truck for a party is your best option, then finding out about pricing will vary depending on what type of cuisine you want, how many guests you have, your location or city, and how popular the date or the truck is. Since Roaming started doing food truck catering in 2009, they have learned a lot about what goes into the costs of renting a food truck.
As Main Auction Services continues to serve the Foodservice Industry; be sure to ask questions about additional creative ideas for your current location. Restaurant Equipment for all types of business is what we do best. Experience has taught us that from beginning to end, there is going to be a best solution for your location and our job is to help you make it happen. Call us today!
310 West Main Street • Grand Prairie, Texas 75050 • 972-642-0513
2100 E Union Bower Road • Irving, Texas 75061 • 972-579-4612
Main Auction Services offers the national food service industry low prices on commercial kitchen and restaurant products. As a seller, buyer, bidder, or consignor, you have the ability to buy, sell, or consign new and used commercial restaurant equipment, hotel bar equipment, supermarket equipment, and commercial baking equipment, and much more, to be sold through our online auction web site.