Commercial Plumbing Products
Manufacturer Specialists Like Moen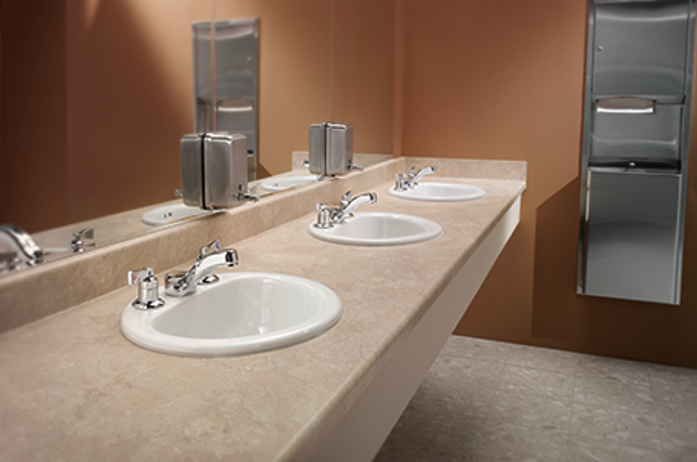 Did you know that very high traffic areas in schools to state-of-the-art office buildings, institutions, malls, banks, restaurants and cafes, choose Moen commercial products; and incorporate beautiful smart design with advanced technology. Moen has a wide selection of products that can address your highest priorities no matter the location.
Replacement costs from leaks, vandalism, normal wear and tear, and worries never cease where commercial and institutional fixtures are concerned. That's why Moen® Commercial engineers and designers think of every imaginable scenario - and plan for it in advance. The result is a full line of faucets and valves every facilities manager can rely on from the number one faucet brand in North America.
First and foremost, M-Power Sensor Products make up a complete line of quality products your restaurant, cafe, kiosk, cafeteria, bar, and stadium locations you need assistance with. Moen's Commercial line of sensor operated faucets, soap dispensers, and flush valves provide heavy use facilities efficient and hygienic solutions to maintain sanitary environments and reduce maintenance. With all metal construction and vandal resistant features; M-Pwer products are backed by a best in class 5 year warranty and are available both in battery or hard wired.
Did you realize Moen products will help you
Reduce Maintenance Costs
Resist Vandalism
Save Water While Maintaining Performance
Cut Your Total Cost of ownership
And More . . .
We welcome you to discover all the reason you can count on Moen Commercial to provide the best solutions for your most challenging environments like:
Flush Valves
Lavatory Faucets
Tub & Shower
Kitchen & Bar
Commercial Parts
Commercial Accessories
Service Kits
Main Auction Services is proud to assist you in learning about all Commercial Plumbing products, parts, and accessories that exceed your needs, and deliver lower lifetime costs for today's facilities.
Restaurant kitchen equipment is what we do best. Call us today and speak with a qualified staff member for all your commercial kitchen equipment, restaurant furniture, and restaurant bar and restaurant supply needs.
1310 West Main Street • Grand Prairie, Texas 75050 • 972-642-0513 2100 E Union Bower Road • Irving, Texas 75061 • 972-579-4612