Ice Is Food
Keeping It Sanitary With Follett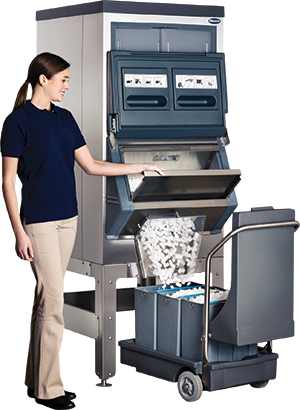 Delivery of fresh sanitary ice to every customer is critical in a new world for 2020. Follett leads the industry in the delivery of ice machines with state of the art technology at the push of a button. Main Auction Services understands your needs and provides you and your restaurant, care, grocery store, convenience store, hospitality setting, sports setting, solutions that need ice on a regular basis which is free of human contamination. Since ice is food, you can keep it sanitary.
Follett offers in 202 the Horizon™ and Horizon Elite™ Chewblet® ice machines which are very easy to clean. In fact, it takes less than half the time as other ice machines. With push button operation, you just add cleaning and sanitizing solution. Horizon series machines automatically clean, flush, and return to service.
Follett also offers the RIDE® Remote Ice Delivery Equipment; and to you as a potential client "Means Sanitary Ice". All Horizon series Chewblet ice machines can deliver ice up to 75 ft away…automatically. Human contact is the key term here. With the Follett Ride technology is automatically delivered to the dispenser, contamination by human contact is avoided. Key to your understanding of Follett ice machines, is others can automatically deliver ice to a dispenser, too, but they must be stacked on top of the dispenser. This makes it very difficult to access the dispenser hopper for cleaning. Pairing with the RIDE technology, the top of a hopper can be easily removed for access to the hopper for thorough cleaning.
For smaller volume ice needs, replace your ice machine and bin with a sanitary, hands free ice only dispenser. Keeping it simple and within your new budgets.
Eliminate Cross Contamination: "Follett's Symphony Plus™ countertop ice dispenser with Maestro Plus™ Chewblet ice machine can replace ice machines with open bins for small volume ice needs. Lever or SensorSAFE™ ice dispensing prevents the risk of cross contamination from manual ice scooping. SensorSAFE's infrared sensing further reduces the chance of cross contamination by eliminating container-to-dispenser contact."
Sanitary ice dispensing makes Symphony Plus countertop ice dispenser a perfect solution for iced coffee bars, where the demand for iced coffee is becoming a year-round beverage, according to the Mintel's data finding. Symphony Plus ice and water dispenser in coffee bar means better ice management by using the gravity dispense technology.
Restaurant needs call for larger volume ice storage, Follett's line of storage bins promote ice sanitation is like no other. Follett's upright ice storage bins are superior to slope front bins. First in first out ice management means ice turnover with no icing. Being able to have constant ice turnover, you get clean, fresh ice every time. Lack of ice turnover can promote stale flavors and odors, as well as promote bacteria growth.
The next step in ice storage sanitation is Follett's gravity dispense bins. Reduce or eliminate the need for scooping and reduce human contact with ice with the Ice•DevIce™ and ITS (Ice Transport System). Dedicated totes and carts that aren't used for other purposes in your facility can be easily filled and wheeled to their destination. Reduced worker contact means safer, more sanitary ice.
Main Auction Services invites you to further look into ice solutions for your business. Remember that Follett offers the broadest line of value-add ice storage bins with a focus on labor efficiency, worker and guest safety, and now sanitation which means you can compete in a bold new world.
Main Auctions Services provides insight into every type of restaurant equipment you can imagine or even think about here in our nation. What best fits your needs, location, or criteria can become a reality by simply looking into ice machines of the future.
Main Auction Services is committed to helping you get the best products from the top manufacturers in the restaurant and foodservice industry. We buy and sell the leading brands to ensure that you have the opportunity to bid on the best quality in refrigeration, furniture, cooking equipment, sanitation supplies, food preparation equipment and dining room essentials through Main Auction Services' online auctions. Call us today to find out more.
On a budget? Call Us Right Now… in Dallas at 972-642-0513 or in Houston at 713-690-1231 Don't forget to sign up for our Auction Alerts Newsletter on the left side of the website.