Hot Summer Trends!
Spice Up Dining With Cool Drinks & Seasonal Foods
As Texas weather heats up, many restaurants are turning to seasonal stone fruits, wild salmon, salad bars, dessert bars,  and other enticing foods to invite guests to taste while dining.
Many restaurants are creating specific locations within their existing facilities for Cafe Bars, Dessert Bars, and Kitchen Counter areas which can serve drinks, desserts, and special Chefs creations for the day. Main Auction Services invites you to consider some new distinctive options in dining experiences for your restaurants.
Garner more market share NOW!
Summer trends this year ranging from popular new beverages, seasonal food options, specialized services, and perhaps new culinary techniques will draw new diners to restaurants for the express purpose of having something they have never had before.
Today's discerning foodie craves the new and interesting. Of course that means as restaurant owners you must keep up by meeting those cravings with what your clients want. Purchase of new restaurant equipment, new menu items, localized food stations, food prep and storage mayall  be necessary to think about if you plan to generate more business.  Main Auction Services can help with that process.  By helping you analyze your new needs, we can provide options for new food service equipment, commercial restaurant equipment, and restaurant supplies that will help to use marketing to increase brand awareness, drive new clients to your restaurant, and make your customers happy and increase your top line revenues. 
Let's take a look at nationwide trends for a moment to give you some great ideas for what's Hot in food and beverages across the nation. Hard Ciders popularity is accelerating dramatically. Sales data provided by GuestMetrics analytics says cider sales across the nation increased by 40% in the first quarter of 2013. While year over year sales shows the increase is actually 70%.
Joe O'Conner of Big Night Entertainment Group says " Ciders obviously have made a hug jump in the market" , and they are quite popular in brunch buffets and early evening dining with friends and families.
Since Cider is "Gluten free", this additional marketing feature helps send a new client base to your place of business, you may have an edge for those individuals looking for gluten free establishments to enjoy. That could open the door for additional Gluten Free meals or sides and appetizers to facilitate this new market share.
Consider adding new bar and beverage area to support this new market. Beer drinkers, sports enthusiasts and young families can all enjoy a variety of Cider products which are flooding the nation right now.   Maybe you can experiment with a Hard Cider, or perhaps a secondary generation floral or barrel aged pale ale beer product as new dining options. You may want to have these new items paired with a special Chefs meals at designated times. As consumers look for special treatment, fine dining and popular collegiate bars can express their fancy side in these wonderful new beers for customers who will enjoy them.
A new mixology station for a cafe bar, dessert counter, or new beverage station where customers can see a show, and pastry bars where guests could order a 3 course meal  that might start with a cheese, wine, cider or dessert tasting is a hot new trend around the country.  Many up and coming restaurants state that often times many people could visit 8 or 10 times for these small intimate special events prior to a dining room experience. Usually they will return with friends. High profits for alcohol beverages apply, and new products could be developed for your menus and new seasonal menu planning.
While it is true, the fine dining experience might just be the Chefs Table, courting new diners to your family restaurant every month could include cocktails for the entire family paired with special desserts which might appeal across the board. Including special meals for children is always a great idea as well.  The Kitchen Counter idea provides guests the special experience they are looking for, and gives the restaurant chef the ability to test the waters for new food options to add to the seasonal menu.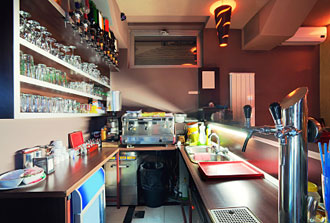 Techniques like Executive Chef Phil Rubine  at Mamma's Table for Moderno in Illinois, gives a family gathering new meaning. A private dining curtain with lighting controls for ambiance, a really memorable event just because or maybe a special anniversary.  Remember many high end chefs are now opening middlebrow restaurants this summer and bringing skill, fine dining, and food to a new level.  It's a great time to experiment in your restaurant or cafe.
Restaurant Equipment needed for a Kitchen Counter, Special Beverage Bar, Cafe Bar, Dessert Bar, or Private Dining experience is always available here at Main Auction Services. Call us today and find out what's Hot at our next auction. Changing it up means you are keeping up with Hot Summer Trends!! Main Auction Services is all about keeping your restaurant current with equipment at affordable prices so you can garner more market share.
Did you realize we have 2 locations in Texas?  1718 West Main Street • Grand Prairie, Texas 75050 • 972-642-0513 and 12922 Hempstead Hwy • Houston, Texas 77040 • 713-690-1231.
Don't forget we have over 35 years of experience in the Food Service Industry. Our qualified staff is always willing to help you increase your top line revenues. Give us a call to find out more right now!