Critical Used Restaurant Equipment Purchases
A Great Start For Any Restaurant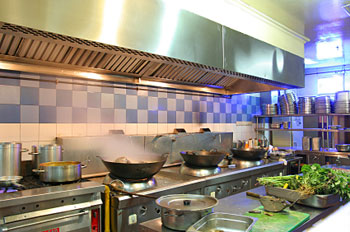 If you are looking to start a restaurant; now is the time to budget and plan to consider the basics of what you are going to need to begin the process of opening your dream restaurant. 
The photo on the right here provides a birds eye view into the Asian kitchen. This is a perfect example of what is required for proper food preparation for a given cuisine. Proper budget planning and purchasing for the exact restaurant equipment you need is critical for success.
Main Auction Services is here to assist you in this process, and most chefs out there will agree, there are some basics you can put on the list right away. Let's begin with those discussion points today. The purpose of this article is to jog your memory, and present the basics for your consideration. This article contains a few of those pieces that may be necessities and should definitely be considered for purchase.
It's a given that to open the doors, you need what you need. How long you use what you have before you trade in, expand, or change completely happens as you grow client base and revenue.  Keeping a firm hand on the budget but still making sure that you do have exactly what you need will assure success with the preparation of the food, storing it, and most important of all - -  keeping all your dining customers very very happy as they consume it and return for more of the same.
Let's get started!
Commercial Ice Maker – Everyone has one. Maybe two, depending on climate and volume needed. The ice maker is critical for many things:
Food Preparation – Keeping those fish and meats cool while you prep
Food Storage – In display cabinets, and keeping the days items you will be serving cool
Salad Bar and Dressings – Depending on the types of bar servers some require ice underneath to assure of constant temps for safety
Beverages – Ice in drinks from the bar and beverages like soda, tea and water are for every patron a alike
If you have a full service restaurant or fast food  location, the commercial ice machine is a must purchase. Make sure it is rated for the volume you expect to serve. Nothing worse than a grand opening and you run out of ice!!! No one needs that kind of extra expense right off the bat.
Stainless Steel Sinks & Counter Tops  - For any number of valid reasons, stainless steel is a critical part of so many aspects of every kitchen large or small, it's just a requirement to have several. Let's begin with:
Food Preparation – Smooth flat and easily cleaned and are NSF approved. All restaurants need a place to place food for preparation. Having room for day to day operations and then a place to store it are a must as well 
Dish Washing – Dirty dishes end and clean dishes for everything you serve begins with use of stainless steel sinks and counters.
Health Code Required Employee Hand Washing – Everywhere! No exceptions here. You must have at least one, possibly more depending on the kitchen size and number of employees
Wall mounted sinks are the most popular for hand washing, and are likely easy to find and install as well. Germ and bacteria prevention is absolutely critical in keeping the doors open. All inspections require it.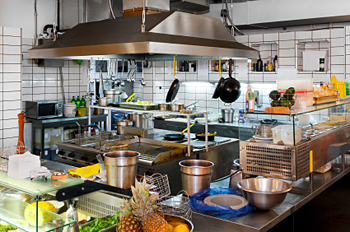 Deep Fryer:  Can't imagine a kitchen without at least one for sure. It's hard to really consider not having some fried foods on the menu. Even if it's just for appetizers. French fries for burgers, to fried fish and fried cheese are staples for kids menus for sure. With so many fryer styles and manufacturers to choose from, shopping for a new fryer can be overwhelming. Basic knowledge provides you with options that meet your needs specifically.
Countertop Fryers - Low volume  delis, concession stands, snack bars, or sandwich shops have both gas and electric options. Usually it's all that is necessary for the outputs required in this setting
Electric & Gas Floor Fryers - Kitchen facilities as well as duty required dictate models and styles. With electric and gas both, light, medium, and heavy duty volumes are often the most popular in this market
Specialty Fryers - Much like a pressure cooker allows you to cook foods faster, a pressure fryer allows your chef to fry foods under pressure, which results in shorter cooking times, and juicier, more tender meats. These styles are great for funnel cakes, corn dogs, fried confections and veggies
Ventless Countertop Fryers -  Great for convenience stores and sandwich shops that don't have vent hoods, these models from often come with catalytic converters to filter out the grease particles, meaning in most municipalities, you don't need a vent hood. Both semi-automatic, and automatic models exist
Remember that tank capacity, recovery time and differences in sediment zones all need valid consideration so you make the right selection for your location and volume required, and in large volume scenarios open and flat bottom fryers offer better options
The Flat Griddle & Grill:  If you have a short order operation or serve any breakfast items, this is the first item you need.
Menu may dictate the size and style, but in general the short order, luncheon diner, and the infamous burger place must have this sought after item
A wide selection of commercial griddles and flat grills in range top, free standing, or countertop styles are out there for the taking
Size and configuration that meet your needs is the perfect end for this simple piece of equipment which has more flexibility in use than just about any other item. While you may not have need of a large style, making room for this in your plan only takes a small area and most are on castors which can be relocated if necessary
To pick the best griddle or grill for your establishment, you will first need to decide how much space you have available as well as whether you want a mode that is powered by gas or electricity.
The rest is pretty easy. Countertop size will determine the fit of your current arrangement and burners heat zones must be adequate to handle what you will cook. Separate heat zones, and control knobs are essential and preferred in all models. The general rule of thumb is one burner for every twelve inches of length. You will also want to understand your kitchen's current utility hookup to assure correct voltages and circuits that perform like they are supposed to. Remember that Gas models will need a special couplings and piping to attach to the main gas lines.
Conventional Convection Oven:  Convection ovens are really very versatile and can come in very handy in most every type of restaurant setting. Convection, steam and combination ovens allow for cooking using basic bar codes saving time and energy costs across the board.
Full & Half Size Electric Convection Oven
Full & Half-Size Gas Convection Oven
Deep Electric & Gas Convection Ovens
Rotisserie Oven on Convection Oven
Most of the types of convection ovens listed above will satisfy the most demanding chefs whether they are baking biscuits, breads, desserts, and the traditional casseroles and Mexican foods. Convection is a simple straight forward must. Getting by may not be the best case scenario in today's educated consumer palate, and after considering the standard oven,  the convection oven cooks more evenly and slightly faster, saving you time and energy. Who doesn't want to save in the kitchen.
Specialized Commercial Refrigeration: No one can run any kind of kitchen without some type of refrigeration. Styles, types, and temperature ranges are out there for the asking.
Reach-in - The commercial freezers commercial refrigerators assist in the storage both before and after prep is complete.
Walk in – The simple large walk in coolers and walk in freezers are all critical to keeping your food stock fresh and easily available
Sandwich prep tables- These easy to locate tables make the transition from grill to table a fine art.
The prep table gives you a place to keep all everything you need to make those delicious sandwiches. Having a prepared toppings and salad ingredients locations handy and ready to use, means quick and easy food delivery to your diners. Most lunch customers have one hour for lunch and you can easily impress
Commercial Dishwashers: Everyone has dishes, glasses, cups, plates, silverware and pots and pans that are used and must be washed, sanitized, and dried. In today's market for the dishwasher of choice, you will find a myriad of styles out there.
Under counter – These styles are perfect for stations, bars, and moveable catering events
Conveyor – Large volume institutions, cafeterias, and the like are a must in a setting where literally hundreds of diners eat over a short time for lunch or dinner
Drawer dishwashers – These new styled can be in out of the way locations for special areas that need a quick response for drinks, appetizers and the like
Don't forget to check with your health city code requirements for sanitization, and preferred methods and purchase accordingly. Commercial dishwashers truly do stop the agony of washing all your dishes by hand. They come in a variety of sizes to fit any size outfit, you just need to locate that right commercial setting dishwasher right for you.

The list above is a starting point for planning your kitchen strategy. When you need to purchase restaurant equipment for a new venture, upgrade to an existing facility, or just want to introduce new menu items, consider your purchases wisely. That's where Main Auction Services Comes In...
 

If you have any questions about any type of restaurant equipment you need or want for your specific location, Main Auction Services has locations to serve your needs. For over 35 years, our qualified staff has been a vital mainstay in kitchens across the globe. Research and Development, preparation, food sales, menu development and testing, culinary school instruction, and much much more dominate the expertise behind the equipment you find for sale here at Main Auction Services. It just doesn't get any better than this.
 
We invite you to take advantage of the skills we bring to the table for your restaurant. The purchase of vital restaurant equipment is the mainstay of your success. Making sure you have what you need to make that happen is what we do best.
Plan for the future now. Contact us at any of our locations to serve you. 1718 West Main Street,  Grand Prairie, Texas 75050, 972-642-0513, 12922 Hempstead Hwy  Houston, Texas 77040,  713-690-1231, and soon to open  1411 Perry St., Irving TX 75060, 972-579-4612. Watch our Home Page and upcoming special newsletter for more information.
Your New & Used Restaurant Equipment Supplier in Dallas, Irving, & Houston


Looking for Used Restaurant Equipment?
Call us here at Main Auction Services, together we can find options to secure your business for the future…
Dallas: 972-642-0513  &  972-579-4612 (Irving) and Houston: 713-690-1231