Restaurant Design By 2020
The Future Of Food Service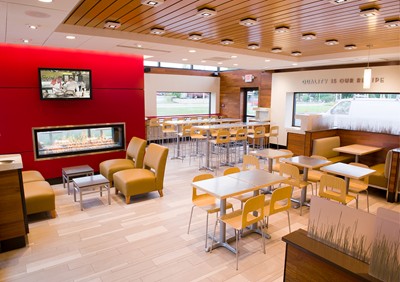 We read this very interesting article this month in the NRN's special report and wanted to pass on this valuable information to all our current buyers. Finding out how the restaurant business will change in the next 7 years may be critical to your budget. Planning for, and implementing new types of equipment, furnishings, and overall aesthetic appeal will be more important than ever before. As the landscape changes and customer experience while they work from their tables, you may need to implement changes you have put off in the last couple of years.
Remember that Main Auction Services will be here to help you begin to plan and implement these next rounds of changes as the industry as a whole tries to meet the every changing demands of our clients. And you though keeping up with the Jones only happened in the suburbs right?
It is reported that by 2020 restaurant architecture and design will embody both high-tech advancements and low-tech hospitality. The focus needs to appeal to hungry consumers that expect modern flourishes like cashless payments and the tradition of human touch points across the board.
The experience of the diners and aesthetic lines between industry segments will also blur further, as quick-service chains adopt the upscale decor of casual-dining competitors. These new hot consumer brands will be adopting tools to speed up service. At the same time, operators' efforts to reduce the costs of build-outs, cut waste and bolster their green credentials will have some repurposing old buildings and many investing in energy-efficient equipment and materials. Easing down costs is still critical and overhead expenses will be kept to minimums.
Expectations of the comfort level of these same fast paced brands will introduce things like fireplaces, upholstered furniture, and comfy surroundings more like home. Quick-service restaurants will offer upgraded seating and fixtures that are more posh than today's plastic and institutional looks. Examples of these newer units will be like Wendy's and Burger King who are already headed in this direction. Dennis Lombardi of WD Partners says "Who would have predicted 10 years ago that you'd see upholstery at McDonald's?" Certainly we live and work in different times.
What about changes in the Kitchen?
Advances in equipment and higher-quality prepared foods from boutique manufacturers will allow restaurants to reduce kitchen build-outs and help a great deal with keeping overhead to a minimum. The kitchen may be able to get by with a high-speed oven and water baths, which require no expensive hoods and ventilation, said Richard A. Keys of Food and Drink Resources. Keep your eyes out for more information to come in the next year.
Changes in the house!
The line between the front and back of the house could disappear altogether at some venues as customers clamor to learn more about how their food is prepared. This may be a good and a bad thing. Clean, efficient equipment and flooring will be highly visible in the future's exciting food service stations locations.  Some full-service restaurants will put seating in — or in full view of — the kitchen, and many concepts will add more tableside exhibition cooking.
Local tastes may vary with geographic location
The emphasis on consistency in appearance among a chain's units will fade. Restaurants from California to Connecticut will increasingly reflect their locales requests and needs. Walls will have more local art and photography, and regional architectural will assert itself, with more operators repurposing existing spaces, such as old warehouses or fire stations as examples. In addition to housing brand DNA in a unique space, the reuse of old buildings will give brands a "green" feel.
Technology is here to stay!
Most of your regular customers already have a growing number of electrical devices, from smartphones to tablet computers, that demand a way to complete or maintain charging.  The new 2020 customer and restaurants will provide a larger number of outlets and even USB ports as an amenity. Expect to see outlets conveniently at tabletop height and, in casual dining, at the bar tops. This will encourage a different type of diner and dining experience.
A place to unwind
While use of technology is projected to grow, more restaurants will offer special seating areas or zones away from the big screens and tablet computers for guests who want to unplug and concentrate on a social gathering with family or friends. In the very near future, this quiet option for seats away from technology might become the luxury that a table near the power outlet and Wi-Fi are today.
Do you have a smart cafe or restaurant?
As cleanliness and food safety draw more consumer attention, the increased use of microchip technology embedded in menus, napkin dispensers and condiment service areas will alert staff when they are near empty or need to be cleaned. Who would have thought this could be so important.
Saving energy is a big deal
Not only will restaurant brands be able to offer more energy-efficient unit models, relying on LED lighting, reduced-consumption equipment, and savvy heating and air conditioning systems, they also will recycle or compost all waste, and many will be growing their own salads and herbs. And they will communicate that environmental story to their customers.
Say goodbye to old design
Restaurant formats and design will adopt the day part flexibility already built into many menus. Rather than creating one design that is all things to all people, operators will specialize their venues to be quick, no-frills spots in the city and full-service gathering places in the suburbs. Within each restaurant, the seating, technology and even the walls will be moveable so that interior designs can be changed to better accommodate the day part. Flex juice bars, appetizer and dessert bars, salad bars, and the like may be the norm from this point forward.
Smaller business footprint
Restaurant unit sizes will continue to shrink, with square footage being shaved as equipment becomes smaller and more efficient, and back-of-the-house space morphs into something akin to a finishing kitchen. Experts suggest typical stores can trim may up to 10 percent out of needed space without sacrificing seating.
Siri Type ordering experience
With all the advances in voice recognition, your favorite drive-thru lanes will be staffed by Siri-like software. This new software will be able to take orders in several languages. Within 20 years, experts expect the software to be sophisticated enough to recognize regional dialects. Amazing!
Express Options
Casual-dining brands will offer much faster,  and smaller express versions of their brands to compete with the growth of fast casual. Red Robin already has created its limited-service Burger Works, Denny's has its Fresh Express, and Red Lobster and Applebee's offer versions in existing stores at lunchtime.
Remember Main Auction Services. Here you will find the latest and useful selection of restaurant equipment for the bidding. If you are looking for a special piece of equipment, please let us know. Thats why we're here. We now have 3 locations to serve you!  Come and grow with us. 1718 West Main Street • Grand Prairie, Texas 75050 • 972-642-0513 12922 Hempstead Hwy • Houston, Texas 77040 • 713-690-1231 1411 Perry Street • Irving, Texas 75060 • 972-579-4612
Sources: Christian Davies of Fitch in Columbus, Ohio; Richard A. Keys of Food and Drink Resources in Denver; Dennis Lombardi of WD Partners in Dublin, Ohio