Chocolate The New Trend
Discover Your Chocolate Thumb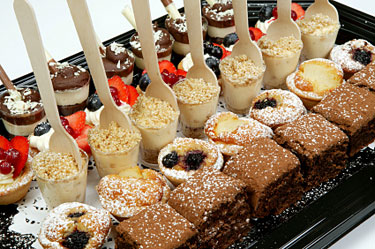 Ahh Chocolate! — America's favorite dessert — Did you know it is becoming even more popular? Here at Main Auction Services, we think you can capitalize on this trend by purchasing restaurant equipment for your commercial kitchen that can help you cater to these obvious choices by patrons all over the USA. Creative, appetizing pairings with ice cream, wine, fruit, cocktails, cookies and candy are in your future.
High margins are the goal for 2014.
First things first. Let's talk statistics for a minute. Datassential reports that 64% of restaurants that offer a dessert,  offer chocolate of some kind since 2005. Since 2005, that means a 53% increase in the love of all things chocolate. Wow! That's a lot of chocolate.The most popular chocolate desserts are a chocolate cake and ice cream, but several chocolate styles, flavor combinations and marketing strategies are now emerging.
New Chocolate Business Strategies:
White Chocolate – Varities of combinations of cocoa butter, sugar and milk solids is appearing on more menus, particularly in drinks, cocktails and breakfast items to mention a few. Datassential reports that white chocolate's popularity has grown by 38.5% which is a phenomenal number in a short time.
IHOP, McDonalds, Baskin Robbins, Bonefish Grill, Quaker Steak & Lube, Burger 21, and Gordon Biersch all have new White Chocolate products for our hungry patrons. In November, IHOP introduced Raspberry White Chocolate Chip Pancakes — buttermilk pancakes made with white chocolate chips and served with raspberry topping, cream cheese icing and whipped topping. How about that for breakfast or dinner...that's very creative and your clients are going there to enjoy them. Why not create something for your patrons?
Mint – The flavors of mint with both white and dark chocolate as a perfect pairing is confirmed by new seasonal offerings. Crushed peppermint candies, chocolate chunks, vanilla, whipped crème, sprinkles, chocolate mint candy, and pairings with wine and yes even beer and the like are special treats for any seasonal Holiday throughout the year.
Baskin- Robbins, Quaker Steak & Lube, Au Bon Pain, Arbys, Cinnabon, and Smashburger all have added various renditions of this decadent dessert and drinks for consumers everywhere.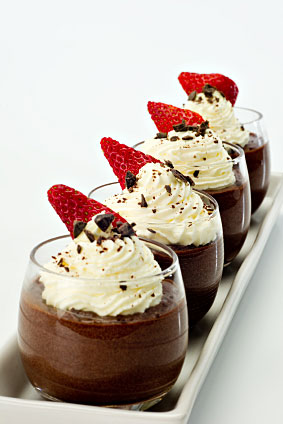 Co-branding -  Co-branding with quality candy, dairy staples, and common grocery items  is a popular overall dessert trend, and chocolate desserts are certainly no exception. Soft serve mixed with Reese's peanut butter cups and Oreos is a perfect of example of Co Branding.
Dairy, Chick-fil-A, Cinnabon, and Krispy Kreme are co-branding with candy, cookies, ice cream and chocolate sauces.
Berries – Berries are now associated with 21% of menus offering chocolate desserts in this last year. Blueberries leads the trend with a whopping 25% increase across the board. Ice cream, pancakes, mousse cakes, fillings, sauces, flavored syrups, coffee additions, and wine pairings are either main ingredients or garnishes with traditional offerings of regular desserts that can be enjoyed for all your menu selections. Appetizers, breakfast, lunch, and dinner service alike are now options for the creative chocolate in your chef.
IHOP, Gordon Biersch, P.F. Chang, Brusters Real Ice Cream, are just the tip of the iceberg for serving up a creative chocolate something!!!
Are you ready to get creative with your desserts? If you are interested in a modular convection oven, combi, freezer, or induction surface with digital control for your creative chocolate thumb, please give us a call. Put our 35 plus years of experience to work creating a high margin dessert using a chocolate goody that will blow the doors off your competition, and provide the restaurant equipment that can make it happen easily.
What will impact your business this year? Main Auction Services Can help you plan ahead a time and turn any challenge into a positive experience. What new services and food can you prepare for new community based offerings that will increase your top revenue growth?…
Call us here at Main Auction Services, together we can find options to expand for the future…
Dallas: 972-642-0513 972-579-4612 (Irving) and Houston: 713-690-1231
Looking for Used Restaurant Equipment?
Call us here at Main Auction Services, together we can find options to secure your business for the future…
Dallas: 972-642-0513  &  972-579-4612 (Irving) and Houston: 713-690-1231