Restaurant Equipment Maintenance
Proper Staff Use Matters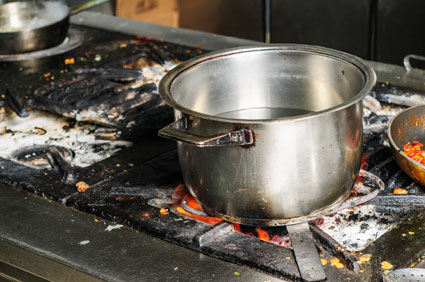 Would you cook on this gas stove shown in the picture here? Main Auction Services understands many commercial kitchens do not have staff or funding to facilitate regular maintenance contracts, however safety and proper cleaning are big issues on keeping your equipment working properly. Passing all inspections to keep your Certificates mean no health code violations and should be your number one priority. 
Purchasing restaurant equipment is a significant investment for all restaurants. Equipment maintenance combined with operator training will make sure misuse and mistakes don't happen in your kitchen. Main Auction Services goal here is two fold in helping you with your restaurant equipment.  Protection of upfront costs, and being able to maximize your return on your restaurant equipment investment are two critical priorities. With no health code violations, safe,clean, and energy efficient equipment that is properly maintained, your business can easily keep revenue flowing.
Another issue that needs to be addressed is energy efficient use of your restaurant equipment. Whether you are looking for new restaurant equipment, used restaurant, or a combination of both, Main Auction Services believes that your purchases need to address all 3 items for concern above.  The central key step to making sure food service operators get a positive return when investing in energy-efficient equipment is making sure your entire staff are trained to use each item correctly and exactly what actions to avoid.
Here Are Some Suggested Must Dos:
Check & Clean Hoses
Check & Clean All Connections Behind All Equipment
Maintain & Repair Broken Nobs On Ranges
Maintain & Repair Loose Handles On Refrigeration
Clean All Burners To Ensure Proper Gas Use
Never Prop Open Walk In Or Refrigeration Doors For Long Periods Of Time
Replace All Light Bulbs With Energy Efficient Bulbs
Install Motion Sensors In Glass Door Refrigeration & Storage &  Pantry Areas To Maximize Electric Use
Regularly Monitor Remote Compressors
Remove Debris From Behind Refrigeration Filters & Ice Machines
Check Into Regular Maintenance Programs & Combine Education With Their Visits
Monitor & Engage Staff To Help Where Possible
Keep Units Up & Running Effectively To Avoid Big Problems Later
Do you currently employ effective planned maintenance weekly or monthly in your kitchen? An educated staff can with a checklist effectively manage all areas of the kitchen weekly and monthly with proper education.
What should this list consist of; let's start with basics below:
Ventilation Needs Ongoing Clean Filters Belts & Keep All Free Of Debris 360*
Dishwashers Temperature Checks & Leaks
Steamers All Free Of Scale Buildup
Gasket Checks On All Equipment & Well Positioned For Drainage
Replace Broken & Leaky Sprayers
Replace Refrigeration Condensers & Maintain Proper Cleaning Ongoing
Monitor Ice Machine Scale Buildup & Condenser Cleaning
The next question you may have is how do I know what to buy for my kitchen? Proper use and maintenance are just the tip of the iceberg with new restaurant equipment or used restaurant equipment purchases. Main Auction Services feels that when you consider purchasing energy efficient pieces to add to or supplement new products on the menu, it is just as important to determine how these new items differ from your existing or similar pieces of equipment out there.
For instance a gas fryer can expend energy at a different rate but may operate in a like fashion from the one you have. You must learn how to save energy as well as learn which are best suited for a particular operation. Batch cooking at peak times, optimizing oven loads, food preparation that is versatile like caramelizing, searing, sou vide, braising and baking can be combined with smokers for instance. Turning unused equipment off at non-peak hours is also another way to maximize any kitchen savings. Larger food cavity ovens is also a way to maximize cooking time. Remember you can extend the life of your restaurant equipment by keeping it clean, operate it at peak efficiency, execute proper maintenance, educate for proper use, keep all calibration at recommended levels, and maintaining the integrity of all parts recommended by the manufacturer are all always going to same you money in the long term.
Best tip to all kitchens to maximize performance is Cleaning with a capital C. A schedule in place to periodically clean equipment, air ducts, hood and exhaust motors, blowers, and installing new filters where needed is the first thing to begin your road to being energy efficient in your current commercial kitchen installation. Optimal energy savings takes a team all employing the right way to maintain your selections. If you have questions about your current commercial restaurant equipment make Main Auction be the first phone call you make. Take advantage of our 35 years experience in the foodservice industry. Serving Dallas, Houston, Rockwall, Ft. Worth, and all points around Texas, Main Auction Services is the best at what we do. We can teach you how to break down startup costs as well as set and meet new goals for day-to-day operations, call us today:
1718 West Main Street Grand Prairie, Texas 75050 • 972-642-0513
12922 Hempstead Hwy • Houston, Texas 77040 • 713-690-1231
1411 Perry Street • Irving, Texas 75060 • 972-579-4612
Main Auction Services, Inc. brings more than 35 years of combined experience in the restaurant, restaurant equipment, food service and related industries to the internet sales marketplace. Main Auction Services offers you a wide variety of quality, new and used restaurant equipment, kitchen supplies, smalls, appliances, furniture and decor at auctions weekly. Main Auction Services buys and sells restaurant equipment in Texas, Oklahoma, Louisiana and nationwide for your convenience.
Remember that Main Auction Services provides auctions to the Used Restaurant Industry Community in Texas and the USA for your convenience: Dallas used restaurant equipment, Irving used restaurant equipment, and Houston used restaurant equipment are only a phone call away. We look forward to hearing from you soon.


Call us here at Main Auction Services, together we can find options to secure your business for the future…

Main Auction Services provides auctions to the Used Restaurant Industry Community in Texas for your convenience: Dallas used restaurant equipment, Irving used restaurant equipment, and Houston used restaurant equipment