2015 Menu Trends
NRA Surveys Professional Chefs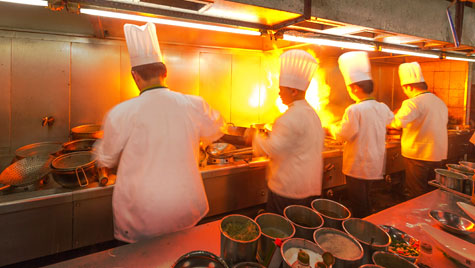 NRA says:
Local sourcing, environmental sustainability and healthful kids' meals should be expected to continue as the top trends for 2015 are forecast for restaurant owners around the country.
As you begin to read and understand the next trends for foodies everywhere, will you consider new or used equipment to support changes you may make in 2015 for your customers in particular? What will impact your business this year?
NRA What's Hot In 2015 Menu Trends
Locally Sourced Meats & Seafood
Locally Grown Produce
Environmental Sustainability
Healthful Kids' Meals
Natural Ingredients & Minimally Processed Foods
New Cuts Of Meat
Hyperlocal Sourcing
Sustainable Seafood
Food Waste Reduction & Management
Farm & Estate Branded Items
Main Auction Services is here to help you acess these new trends for 2015, and can help you plan ahead a time and turn any challenge into a positive experience to implement new items for your dining patrons experience. What new services and food can you prepare for new community based offerings that will increase your top revenue growth? Keep that thought in mind...
Once again, the NRA surveyed nearly 1,300 professional chefs – members of the American Culinary Federation (ACF) – to find which foods, cuisines, beverages and culinary themes will be the next hot trends on restaurant menus in 2015.
"As consumers today increasingly incorporate restaurants into their daily lives, they want to be able to follow their personal preferences and philosophies no matter where or how they choose to dine," said Hudson Riehle, senior vice president of research for the National Restaurant Association. "So, it's only natural that culinary themes like local sourcing, sustainability and nutrition top our list of menu trends for 2015. Those concepts are wider lifestyle choices for many Americans in other aspects of their lives that also translate into the food space."
"Chefs are committed to supporting their communities and helping make responsible food choices," said Thomas Macrina, CEC, CCA, AAC, national president of the American Culinary Federation. "I am pleased that members of the American Culinary Federation continue to support local sourcing and sustainable food practices as an annual trend and are paving the way for these values to become part of everyday American cooking."
Reports on results about the top alcohol and cocktail trends have also revealed that the top 5 alcohol and cocktail trends will be micro-distilled/artisan spirits, locally produced beer/wine/spirits, onsite barrel-aged drinks, regional signature cocktails, and culinary cocktails.
What has increased in most market trends since 2014 have included some organic favorites. They included fish, doughnuts, ethnic condiments, grass fed beef cuts, brown and wild rice with grilled veggies. Bruschetta, kale salads, nose-to-tail cooking, hybrid desserts, and house-made soft drink items have declined and represent those which have the lowest ratings for the upcoming 2015 trends.
Chefs were also asked to speculate about current food trends which will in all likelihood maintain their popularity in 10 years, as well as how they feel about customers taking photos of their foods and posting on social media out there. Environmental sustainability topped the list, followed by local sourcing, nutrition and ethnic cuisines and flavors were the most popular trends felt that will stay with us in the coming years. Interestingly enough, 3 out of 5 chefs agree photos posted to social media believe it's great advertising and deserve encouragement. Only 1/3 thought discretion may be important, and only 1 in 10 felt it was disruptive and needs to be discontinued. Looks like Social Media is a hit with mainstream diners.
Here at Main Auction Services, we understand your kitchen equipment needs must be consistent with your clients demands. Meeting you where you are with providing commercial restaurant equipment is our specialty. If you have any questions about any type of restaurant equipment you need or want for your specific location, Main Auction Services has locations to serve your needs. Did you realize that for over 35 years, our qualified staff has been a vital mainstay in kitchens across the globe? Research and Development, preparation, food sales, menu development and testing, culinary school instruction, and much much more dominate the expertise behind the equipment you find for sale here at Main Auction Services. It just doesn't get any better than this.
 
As restaurant equipment professionals, we invite you to take advantage of the skills Main Auction Services can bring to the table for your restaurant, club, lounge our bar. The purchase of vital restaurant equipment is the mainstay of your success. Making sure you have what you need to make that happen is what we do best.
Plan for the future now. Contact us at any of our locations to serve you. 1718 West Main Street,  Grand Prairie, Texas 75050, 972-642-0513, 12922 Hempstead Hwy  Houston, Texas 77040,  713-690-1231, and soon to open  1411 Perry St., Irving TX 75060, 972-579-4612. Watch our Home Page and upcoming special newsletter for more information.
Your New & Used Restaurant Equipment Supplier in Dallas, Irving, & Houston


Looking for Used Restaurant Equipment?
Call us here at Main Auction Services, together we can find options to secure your business for the future…
Dallas: 972-642-0513  &  972-579-4612 (Irving) and Houston: 713-690-1231