Main Auction Services Has The Knowledge
Consider Your Options For A New Kitchen
To Build Or Not To Build - That Is The Question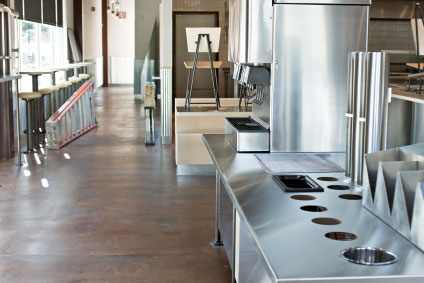 Main Auction Services in Texas is asking if you are putting in a new kitchen or renovating an existing one? One question you need to ask if you will provide foodservice is "Do I Really Need To Build A Kitchen?" As consummate professionals in the Food Service Industry, Main Auction Services takes pride in assisting you with questions of this nature. For over 35 years our family has dedicated their lives and business to the Food Service Industry, and combined experience in the restaurant, food service and related industries to the internet sales marketplace.
A designated planning committee may be the ones making these design decisions without advisement from someone familiar with foodservice operations. If a college or corporate campus has multiple kitchens, careful operational planning may allow for a new grab-and-go venue or small coffee counter to be supported by an on-site kitchen or commissary. Having no kitchen on site, the decision creates a whole new dilemma if foodservice is your main goal.
Our purpose is not to push you into building a kitchen anytime foodservice is required, but rather to help you make the to-build or not to build -a-kitchen decision with a heavy dose of wisdom and full understanding of the financial and operational implications. As a guide, Main Auction Services in Texas we can help you evaluate, budget, and facilitate that redesign and rebuild required to reach your current goals.
Main Auction Services will assist by discussing your dining concept and operational expectations to feel out additional information and help accurately determine your kitchen requirements. Main Auction Services always advise those considering any dining facility to bring in someone familiar with dining operations as early as possible, if even to simply be a sounding board for your vision. This critical and throughtful evaluation on your dining goals on the front end will result in saving you time, money, and ensure the foundation for a positive dining experience. Successfully meeting and exceeding your dream dining operations is why we are here.
Main Auction Services is a great service based auction firm for new restaurant equipment, and used restaurant equipment based in Texas. We have over 35 years of experience in the foodservice industry in planning capabilities that are dedicated to serving cities, restaurants, cafeterias, educational institutions, municipalities, public agencies, and non profit clients with the latest new and used restaurant equipment out there.
If your company or restaurant could use foresight to positively affect your future, would you? Main Auction Services challenges you to take a systematic analytical look at the trends in the food service industry already impacting the world in the environment and health arenas and consider new equipment, technology and social and economic options that will create the future vision of the outcome you want for your business. Planning for the future is never a bad thing.
Whether you need to buy one piece, outfit an entire restaurant, or own several franchise locations; Main Auction Services is your best resource for purchasing late-model restaurant, bakery and bar equipment. With inventory arriving daily we invite you to call today to speak with a restaurant equipment specialist. Call us right now in Se Habla Español Dallas: 972-642-0513 Houston: 713-690-1231 Irving: 972-579-4612.