Boiler or Boilerless?
Properly Evaluate What You Need!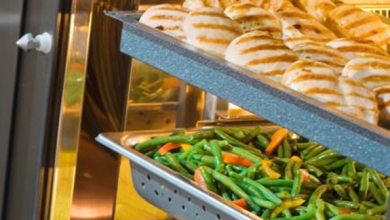 Main Auction Services asks if you are in the market to acquire your first combi oven. The next question is boiler or boilerless? Your choices range from compact/countertop to massive roll-in units; and bearing that in mind please consider the following: Before before you think about size, you'll need to weigh the differences between the two basic types of combis: boiler-based or boilerless.
Henny Penny one of the nation's leaders in fryers, holding cabinets, rotisseries, combi ovens and merchandisers sponsored a great article in Restaurant News this month that totally identifies exactly what your next step needs to be, and here at Main Auction we agree. We have reprinted the most important parts for your consideration below. You may have already had to tackle the answer to the questions posed there and have made your purchase. However if you are a high volume kitchen across the board in casual dining, healthcare facilities, supermarkets and are still trying to determine what to purchase, then reading this article is a great place to start.
Does the existing kitchen you have or are building support boiler-based or boilerless combi oven?
Which type cooks faster?
General rule of thumb - Boiler-based combis have the edge over boilerless units where steam generation is concerned. Combis with built-in boiler systems heat water outside the cooking cabinet and send the resulting steam into the cooking cavity. Technology has advanced so much that boilerless units essentially match boiler-based units in cooking efficiency.
Boilerless combis make steam in various ways, but all involve spraying water (usually cold or ambient temperature) onto a very hot surface, and then circulating the resulting steam throughout the cooking chamber using fan wheels.
Henny Penny mentions their FlexFusionTM boilerless combis speed steam production by preheating the water before it hits the fan wheel. "The preheated water means temperatures and steam volume in the cooking cavity will better match the chef's requested settings from the start," says Dann Woellert, product manager for the Eaton, Ohio, manufacturer.
What about control of temperature and steam levels?
Most boilerless units rely on a solenoid valve causing a stream of water to spray onto a fan wheel, which then goes onto the heating element and turns into steam. With boiler-based combis, water held in the adjacent tank is kept hot in order to provide steam on demand. That way humidity and heat can be delivered to the cooking chamber simultaneously and on target with what the chef has requested.
"If the flow rate of the water is not matched to the level of steam required, you can overshoot the setpoint temperature of your recipe," Woellert says.
By contrast Henny Penny boilerless combis include a flow rate module that controls the amount of water hitting the fan. "You can adjust steam volume from 0 percent to 100 percent in combi cooking," Woellert adds.
Is water filtration necessary?
Yes, any type of steam equipment requires water filtration, say the experts. Without filtration, minerals in the water will soon choke and clog your investment, bringing the combi — and your foodservice operation — to its proverbial knees.
Both boiler-based and boilerless combis will require a filtered water source. "Before you order your first combi catalogs, ask your filtration company to test the water from the site where the oven will be used," says Bill Galasso, a certified technician at the Denver branch of national service company General Parts.
"If you have hard water [containing lots of calcium and minerals], a boilerless combi would probably work better, although you will see calcium deposits build up over time in the cooking cavity," Galasso says.
"A boiler-based unit used in a hard water area would require a reverse osmosis filter system, which is expensive, takes up extra space, requires more water and includes its own ongoing filter maintenance requirements," Galasso adds.
Your water filtration supplier can tell you exactly what minerals and additives (such as chlorine, chloramine or chlorides) are in your water. Armed with that knowledge, your dealer or manufacturer can guide you toward the appropriate combi and accompanying water filtration system. If you don't have a current water filtration system in your existing kitchen, or haven't planned for one and you want to purchase a combi, this may be a huge issue. Water minerals and buildup become a must to find out more about.
What about cleaning?
Suppliers have tried to make cleaning as painless as possible. Most combis — both boiler-based and boilerless — include a self washing cycle, which, when used daily with manufacturer recommended cleaning chemicals, will keep oven interiors sparkling.
Boiler-based combis, however, require extra care, as mineral deposits build up inside the boiler, out of sight and often, out of mind.
"Operators must be sure to include a boiler deliming regimen as part of their regular maintenance schedule, in addition to the daily cleaning of the oven," Woeller says. On top of that, manufacturers recommend periodic professional descaling services to keep the boiler healthy."
Boilerless units that have a variable speed fan, such as Henny Penny's FlexFusion, allow the self-cleaning spray to hit all parts of the cooking chamber for better cleaning results.
What about for menus that have a lot of seafood?
High-volume shellfish cooking and boilerless combi ovens do not play well together.
"I've seen several boilerless combi ovens get eaten alive due to [menus that center around] shellfish," says John Schwindt, vice president of operations for Hawkins Commercial Appliance Service in Englewood, Colo. "The superheated steam causes a chemical reaction between water minerals, and it must release extra calcium from the shells. The combination of heat, minerals and chemicals corrodes metal quickly, including the fan blades."
This effect can be counteracted by a regular cleaning cycle," Woellert points out.
Which consumes less water?
As for water use rates, boiler-based combis do indeed consume more water and energy to keep that water hot than do boilerless units which use water only on demand to create steam.
Choosing the oven type that is right for your operation depends on many factors—menu type, production levels and capabilities. When making a large investment decision such as this, it is best to consult an expert for recommendations that depend on your operation's unique situation.
Main Auction Services in Dallas, Irving and Houston is very connected to the foodservice industry at large. High volume purchases of restaurant equipment to auction brings to bidders all types of equipment at our doorstep to select from. The good news for you is there is always helpful information out there about every type of restaurant equipment out there in the market for purchase available on our News and Manufacturers pages on this website. New or used, restaurant equipment is a requirement for our industry to survive. Keeping you, our clients, informed about your options to purchase is what we do best. Thanks to FSvoice, for connecting marketers to the foodservice industry in this article as well.
Whether you need to buy one piece, outfit an entire restaurant, or own several franchise locations; Main Auction Services is your best resource for purchasing late-model restaurant, bakery and bar equipment. With inventory arriving daily we invite you to call today to speak with a restaurant equipment specialist.
Call us right now in Se Habla Español Dallas: 972-642-0513 Houston: 713-690-1231 Irving: 972-579-4612.