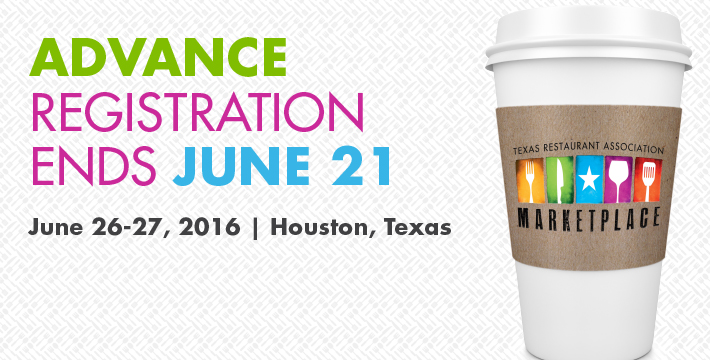 Save The Date: Main Auction Services invites our patrons to consider attending the TRA Marketplace Event listed above this year. The Texas Restaurant Association works tirelessly to provide our members with valuable tools and information to help them run their businesses more efficiently and profitably. We understand the challenges and concerns restaurateurs face every day. This invitation means you are a vital part of the restaurant industry in the State of Texas and wish to support TRA efforts, as well as make a difference in your business by attending. The Texas Restaurant Association Marketplace is the largest foodservice tradeshow in the region. TRA brings hundreds of exhibitors and thousands of foodservice professionals to the table for two days of networking, education, selling, and buying. Its not just another tradeshow, it is the event for all segments of the foodservice and hospitality industry.
http://tramarketplace.com/This email address is being protected from spambots. You need JavaScript enabled to view it.
Phone:
512-457-4100
George R. Brown Convention Center,
1001 Avenida De Las Americas
Houston
TX
77010
Show Hours
Sunday, June 26
10:30am–5pm
Monday, June 27
10:30am–5pm
Registration open
8am - 5pm Friday, June 24 - Monday, June 27
TRADESHOW:TRA Marketplace showcases hundreds of exhibiting companies who are ready to help you find just the right product or service to meet your needs. Exhibitors represent hundreds of product categories; to name a few: beverages, equipment, food, furniture/decor, lodging, paper, plastics and supplies, services, tableware, linens, technology and entertainment, and apparel/uniforms. EDUCATION:In addition to finding the latest in cutting-edge products and services, attendees gain access to free education sessions, panel discussions and training led by industry leaders and experts.
TRA Marketplace showcases the latest industry trends guaranteed to give you a competitive edge.
Attendee Registration: Click Here To Find Out More Now
---
Restaurateurs wanting to remain a vital part of their customers' lives must understand consumers' ever-evolving lifestyles and the trends that drive them. Our specialty areas feature companies on the cutting edge of these trends.
Craft Beverage Garden

Of course you'll get to sample amazing craft beers and liquors from many of Texas' finest breweries and distillers, but you'll find so much more! Exhibitor List

Technology

As technology is becoming a part of the daily lives for many Americans – and a critical tool of convenience for more than a few – the desire to use options like touch-screen ordering, smartphone apps, and mobile payment when dining out is growing. Visit the Technology area to get hands on demonstrations and participate in interactive discussions on the ever-changing world of technology. Exhibitor List

Mobile Food Lot

Food trucks are here to stay! They are a fast-growing segment of our industry and Texas has more food trucks/mobile foodservice vendors than any other state. See the latest food and catering trucks and trailers offered by leading manufacturers. Check out the equipment designed to work in these small areas and tour some really cool food trucks!

Culinary Innovation Station

A carefully curated collection of innovative companies just launching their products in Texas, or new to the restaurant industry. Participants will showcase the latest, most innovative products with a focus on healthy, ethnic and other trends. Exhibitor List

GoTexan

There's no denying Lone Star pride! This collection of Texas-grown producers shares products born in Texas.

New Product Showcase

An entire area of the show floor is dedicated to new products. Stroll through and see what catches your eye, then visit the exhibitors' booths to learn how these cutting-edge offerings can help you run your business even better.
On a budget? Call Us Right Now… in Dallas at 972-642-0513 or in Houston at 713-690-1231
Don't forget to sign up for our Auction Alerts Newsletter on the website before you leave. This keeps you informed about items currently available for bidding.
Main Auction Services is looking forward to your call today!