Barware & Glassware Washers
New Energy Star Technology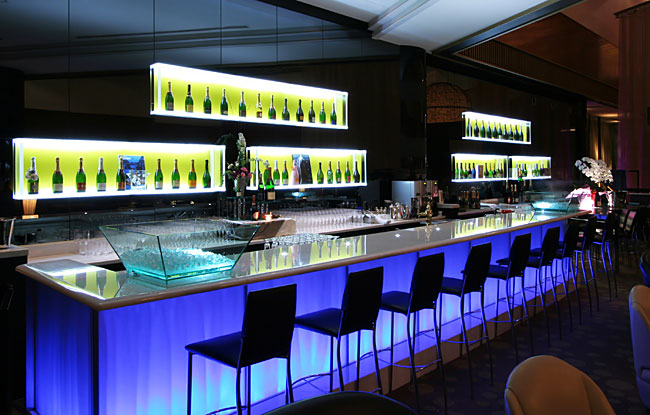 What type of glassware and dishwashers do you currently operate at your bar, restaurant or cafe locations? Main Auction Services, your favorite restaurant equipment provider, hopes that this new Energy Star Technology for barware undercounter washers and glasswashers may be the answer you have been looking for in your barware supplies challenges. Quality Barware and glassware washers can make the difference in how a bar drink tastes to today's educated patrons. Discriminating taste by your beverage customers can open the door for specialty and signature drinks you feature for returning bar patrons.
Bars and cafes alike house under counter dishwashers anticipate the ability to save time and space. Busy parties, events, cash bar settings, and being slammed with patrons are part of the daily life of a busy club or restaurant. Barware, glasses, mixers, shakers, blenders, and specialty glassware for serving are a must. The biggest issues for challenges means the back bar areas are usually smaller in size. Thus, it is a requirement for most small dining facilities of this nature have to clean dishes quickly, and should come with frequency options allowing racks of glasses and dishes to be cleaned quickly and leave no residue. Quick options means the bar can serve more drinks quickly and raise profit margins easily. Not to mention keeping your patrons coming back for more.
Selecting The Model For Your Location - When selecting your commercial under counter dishwasher or glassware disher, management always has the option to choose between high-temperature models, which clean with very hot water and less chemicals, and low-temperature models which use more cleaning chemicals and less energy to get the job done. These units are not only energy efficient, but space efficient, which is always important when you have a limited amount of kitchen real estate anyway. Not to mention time saved carting racks and racks of dishes and glasses to another location in the busy kitchen.
Here's to higher standards, is a Hobart slogan that seems to apply to most every bar, restaurant, or cafe that has a need to wash, as well as clean plates, platters, beer mugs, shot and well drink glasses and the like. Most customers expect more from their drinking and dining experiences these days as they fill their glasses with craft beers, handcrafted cocktails, boutique wines and specialty nonalcoholic beverages just to mention a few...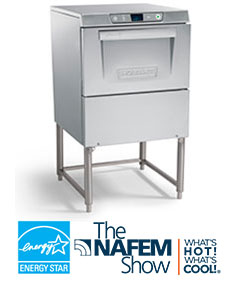 Nothing should get in the way of your customers enjoying the pure taste of their beverage. The taste and care you pour into every glass because you know they are clean and without telltale residue is important to everyone. Diners, patrons, and management as well. The business must save as much as possible but still get the job done. A great example of an Energy Star qualified glasswasher is the all-new Advansys™ LXGe by Hobart. This state of the art disher cleans and sanitizes glassware with no chemical residue.
Models of glasswashers are ENERGY STAR qualified with easy, one-button operation and a special "Soft Start" feature that helps protect glasses from chipping and breaking. With two available heights, compact design and high-end appearance, the Advansys LXGe glasswashers are an easy fit--even in the most exclusive establishments and space saving locations.
Another great example of industry required options comes from our friends at Hobart. Undercounter dish machines are the most popular in the industry for bars, small cafes, hospitality suites, hotel kiosks, airport walk in bars and many many more scenarios. Leading manufacturers are helping the barware industry in check by keeping reputations spotless all over the world. The Hobart LXe Undercounter is one to consider, we have pictured in this article brings the same focus on technology and sustainability found in Hobart's larger dishwashers to smaller, more space-sensitive operations.
Added Benefits:
Energy Star Product
ENERGY STAR® qualified
Uses only .74 gallons of water per cycle
Features Smart Display technology – no confusing error codes
Delime notifications and cycle
Large 17" door opening for easy access
The redesigned Hobart LXe Undercounter packs big sustainability and best-in-class cleaning performance into a small size that's perfect for bars, restaurants, coffee shops, care facilities or anywhere that needs an easy-to-use, compact warewashing method. The particular LXe undercounters are ENERGY STAR rated and use a mere .74 gallons of water per cycle. The LXe is capable of cleaning 32 to 34 racks of ware per hour, and saving water and energy while it does. Chemical residue: The unwelcome finish is an issue for every bar, restaurant or coffee shop alike. These types of numbers make total sense to staff in preparation, and to management who saves and makes money on each beverage served. Signature beverages and drinks that keep your patrons coming back for more must be consistently prepared and taste fantastic. If you're serving your beverages in glasses that have been cleaned by traditional glasswashing methods, your customers may remember your drinks for all the wrong reasons.
Older locations for bars, typically have three compartment sinks for traditional style washing. While these can clean and sanitize, due to the chemicals used to remove unwanted food or alcohol beverages and fruit left behind, there is often a chemical residue that taints in sight and taste you never want your bar patrons to experience. Making Better drinks means you will have better business and they can be made so easy. So, why not save time and money too?
Consider Energy Star rated glasswashers, and undercounter dishwashers. Make your drinks shine and save money doing so by taking advantage of the latest features designed to help you provide superior cleaning performance. Another wonderful feature in the latest Energy Star products have exclusive steam elimination and Energy Recovery systems captures steam from the wash cycle, and then uses it for the next rinse cycle while running on a cold water line. This dramatic reduction of steam and up to $485 in annual energy costs savings is just the beginning of how you can save by updating your current technology.
Busy shifts, special parties and events, and getting slammed when you least expect it, usually spells disaster for the kitchen and bar. The result is the patron is the one who suffers. They get dirty smelly glasses and could have to wait for those drinks before dinner. New technology enables you to bypass these types of issues with proper staffing. Remember built in sensors can notify operators of any specific issues during wash cycles, and having improved aesthetics means drinks are flowing, glasses are moving, and patrons are getting drinks more quickly. Ask about some models that feature delime capabilities which speak to hard water challenges, and Soft Start styled features which protect glassware from chipping and breaking as well.
Main Auction Services, Inc. invites you visit our facilities located in Dallas & Houston to view our retail showrooms and auction facilities to preview our in stock inventory. With new restaurant equipment, used restaurant equipment, wholesale kitchen equipment, superior styles and types of barware supplies and smalls, you can view our high volume wholesale inventory turn-over.
Our goal is to make sure that we meet your restaurant, bakery and bar equipment needs. On a budget? Call Us Right Now and ask about Austin & San Antonio equipment… in Dallas at 972-642-0513 or in Houston at 713-690-1231