Holiday Catering
Interesting Catering Supplies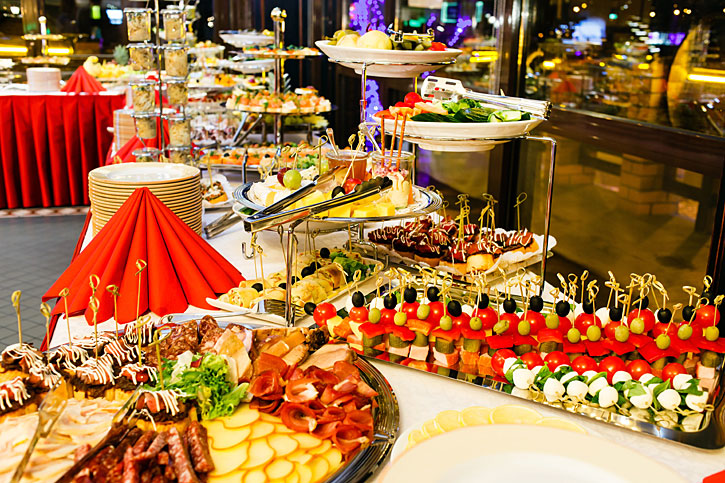 The busy Holiday Season is here. The time between Thanksgiving and Christmas is one of the most busy times of the year for all types of catering events, parties, and restaurant offerings. With so many new uses for things like chocolate fountains, why not consider using something like the picture above for your latest event. Fountains with soups, dessert options like chocolate and even BBQ sauce, you may want to take a chance. Normal items like fruit, cake, and your favorite marshmallows, nuts, and crazy candy are now being supplemented with all manner of new types of foods and beverages. Catering supplies are all about events. Parties, weddings, city events, tailgates, birthdays, anniversaries, and really anything else you can think of now are using fountains, stacked trays, and beautiful cake plates are all making the events of the season around every city here in America...
So, the next step for your event using a chocolate fountain may be to decide will you only use chocolate? What about cheese fountains, or caramel fountains, or even BBQ sauce or ranch dressing fountains used as centerpieces for a table of BBQ or as the center piece for the salad bar. The sky is the limit. So you decide. If you use chocolate then let's talk about the fountain. You see them around, they always spark interest but how about care and feeding...
After deciding on the best chocolate fountain for your next catering event or business needs, Main Auction Services believes it is important to know how to use and maintain this extremely versitle catering supply product to maximize profits. As with most things, correct usage is critical to keep the integrity of the chocolate in place as well as keeping safety in mind in a public or commercial setting. Efficient cleaning will prolong the life of your product and is also play a critical part of owning a fountain.
Get To the Basics on use and maintenance guide to help optimize the life and quality of your catering fountain. Let's begin:
Prepare the fountain properly for the liquid
Proper melting techniques or heating adjustments
Steady temperatures
Proper cleaning and drying
Preparing A Chocolate Fountain - Presentation is everything. In case you haven't used one yet
Use a strong support surface - All in with a full fountain and skewers, plates, and napkins it can weigh up to 85 pounds
Level the fountain - This will even flows and the pump will operate correctly
Always use a dedicated circuit - No extension cords unless rated correctly and tape all cords to the floor and cover with rugs to avoid trip hazards
Ventilation is required - Vent holes at the base of the fountain prevent overheating. Keep all materials clear around the entire base
Time preparation - Melt chocolate immediately prior to placing it in the fountain to avoid improper consistently. It could take up to an hour depending on methods of heating
Monitor the chocolate - Pre melted and basin melted chocolate both need a careful eye when first being added to the fountain. Stir the chocolate often and spoon it towards the auger to begin the flow
Cleaning The Fountain - Protect and prolong the life of your fountain and ensure a sanitary product after each use
Clean the fountain immediately. Quickly remove all chocolate with a spatula, sponge, and mild warm detergent. Clean up immediately
Disassemble the fountain into their parts - Auger tube, auger, bowl, tiers, and base can be placed in the dishwasher for maximum removal and proper heat
Check the auger thoroughly - Clogs can happen especially with hardened chocolate, even if they go through the dishwasher
Hand wash the base - Be sure to removed any residue from the cord and underside as well. Remember the base can hold hot water with mild detergents
Catering supplies are a vital addition to any restaurant or party event you may have schedule before Christmas this year. You already have some items used for take out, and other special events you may have ongoing in the course of the year for those annual events. Considering new alternative ways to use standard catering supplies, traditional foordservice equipment, and restaurant equipment in general is part of the fun of owning a restaurant or catering service. As chefs and owners the Catering equipment, cleaning and maintenance are vital to your success. Remember that creativity is the new normal in every setting and event you have. Keeping up with new food trends may require additional food equipment. That's where Main Auction comes in. We invite you to stop by our showroom and put on your thinking cap. With auctions weekly, Main Auction Services in Dallas is here to help you maximize profits, and keep you on budget. Ask about our catering supplies coming up in the next auction.
Main Auction Services wants to be the restaurant store you think of first. Main Auction Services has facilities in Dallas, TX and Houston, TX. For more information about upcoming sales please call 972-642-0513 (Dallas), 972-579-4612 (Irving) or 713-690-1231 (Houston). Main Auction Services provides services throughout the state of Texas, including Austin and San Antonio.
1718 West Main Street • Grand Prairie, Texas 75050 • 972-642-0513
12922 Hempstead Hwy • Houston, Texas 77040 • 713-690-1231
2100 E Union Bower Road • Irving, Texas 75061 • 972-579-4612