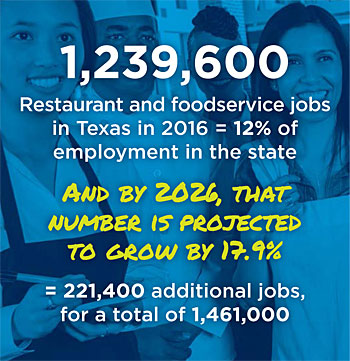 Texas Restaurant Industry
A Driving Economic Force
If you currently own or work in the foodservice industry this year in Texas; then be prepared to understand the critical statistics we are about to show you on the importance of your restaurant, bar, grill, kiosk, food truck, or institutional kitchen, in your local community and city in Texas.
Why is this important to you? Main Auction Services and Texas Restaurant Equipment believe that the jobs and entrepreneurial opportunities in every community in Texas that you represent, mean you are vital to every community you serve. More important than that, is you need to be successful in your business so the entire community can be successful as well. If you are successful, then we can help support your restaurant.
Part of the reason Main Auction Services and Texas Restaurant Equipment are here is to help provide valuable and much needed resources for restaurant equipment in the foodservice industry. Statistics tell us this is a vital and thriving industry here in Texas. Statistics provided by the National Restaurant Association and the Texas Restaurant Association in this article also tell us that Texas alone provides 10% of the Nation's workforce. Were you aware of that fact?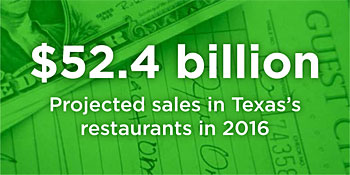 In America and Texas, collectively, the statistics we will reveal below are astounding to us. We are blown away that we could represent so many people here in Texas, and in our nation as a restaurant equipment resources for all types of restaurant equipment. We want you to be successful. Enabling you as a restaurant owner to do your job is our goal.
Providing new restaurant equipment, used restaurant equipment, and information about the foodservice industry is our job. Helping you serve your community with food prepared that's healthy, tastes great, and on a budget all of us can afford has always been our commitment to you as an owner. Feeding America is a big job. And it takes all of us suppliers and those who resource goods and services to make it happen.
First let's take the Texas Restaurant Industry at a glance As far as the economy is concerned, your restaurant provides jobs, builds careers for thousands of people, and plays a vital role in local communities throughout the state of Texas as a tax base.
Here are some pretty shocking statistics you may not be aware of:
In 2015 there were 43,670 eating and drinking place locations in Texas
Based on those figures, projected sales in Texas's restaurants in 2016 will be $52.4 Billion
Restaurant and foodservice jobs in Texas for 2016 equal 12% of the employment of the entire state
Projections say by 2026 that number is projected to grow by 17.9% which in real economic terms means and additional 221,400 additional jobs, and brings the entire total up to 1,461,00 total jobs here in our state alone.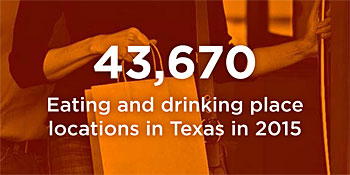 The next question you may want to ask yourself; now that you are blown away by those figures above, is how big is America's Restaurant Industry at large...We break it down for you into some easy to understand things:
Locations in America - 1 Million+ serving millions every day
Sales in America - Is equal to 4% of the US GDP (Gross Domestic Product)
Employment - In America 14.4 Million are how many people our industry employs. This is equal to 10% of the nation's workforce.
Total Food Sales In America are $783 Billion
The total eating and drinking places here in Texas totals are 43,670
Total number of employees in Texas are 1,239,600 million
Texas's 995,700 eating-and-drinking-place jobs represent the majority of the state's total restaurant and foodservice workforce of 1,239,600 jobs, with the remainder being non-restaurant foodservice positions.

Amazing right? You and your company are very important to Texas. This information is vital to your success, day to day operations, and most of all, assists in keeping you in the mindset you need to stay in, that will make your success happen. The issues of labor workforce, health care, and taxes are always staring you in the face. Keeping your eye on the ball, learning, taking action in your community by getting involved where you can, is so important to everyone you serve. Remember who you are, and act accordingly. You are a driving economic force in this community. The Texas Restaurant Industry serves millions daily food, and keeps us all working on our own jobs. What could be more important than that....
Call Main Auction today and let us help you with your restaurant equipment. new restaurant equipment, used restaurant equipment, and foodservice insights are what we do best. For over 35 years, our company has made it a goal to be the best we can be in providing you the opportunities in doing your job well. Feeding Texas, feeding America. The power behind the workforce...
Whether you need to buy or sell one piece, or the contents of an entire restaurant, Main Auction Services is your resource for late-model restaurant, bakery and bar equipment. Call today to speak with a restaurant equipment specialists. Used Restaurant Equipment For Sale, Restaurant Equipment For Sale, and Restaurant Equipment Auctions, Main Auctions Restaurant Equippers Are Here To Serve You In Dallas, Ft. Worth, Houston, Austin and San Antonio

1718 West Main Street • Grand Prairie, Texas 75050 • 972-642-0513
12922 Hempstead Hwy • Houston, Texas 77040 • 713-690-1231
2100 E Union Bower Road • Irving, Texas 75061 • 972-579-4612