The Kitchen Of Your Future
Consider Your Next Purchases
A new article from  Joseph M. Carbonara, Editor in Chief of Food Service Equipment & Supply magazine,  revealed in a very telling article the latest trends in the kitchens of our industry as well as some ideas you may want to consider before making your next purchases.
Our qualified staff here at Main Auction is here to assist you in consulting with your business both in the selections of foodservice equipment and in the new designs of your current kitchen to meet your changing food service needs. We think this article is a great read and may give you some great ideas for your future restaurant success.
The first focus mentioned by Joseph is flexibility. Both in menu construction and equipment use has become the name of the game for today's kitchens.  Main Auction agrees and believes that  it will undoubtedly ring true for many years to come. One of the most important factors that lend credibility here is the fact that whatever you purchase, the new design of that kitchen must stand the test of time. Lean footprints, sustainable foodservice practices, and the every changing needs of your consumer demographic will all make the future a bright one if you keep on your toes.  Purchasing used equipment can be a very real consideration when you consider your next kitchen purchases.
According to Joseph's article, customer demographics dictate the needs of the kitchen. James-Madison-Kitchen The East Campus Dining Hall, also known as Dolly's, is the first LEED building on James Madison's campus. Designed by Ricca Newmark, the servery features seven interactive food stations with bar stools, where students can watch chefs prepare their fresh meals. The international station rotates cuisines daily, offering a variety of options, such as Thai, Mexican, or even Indian food cooked in a traditional Tandoori oven. The new cooking equipment has allowed for 85 percent of the food to be made from scratch, according to Schroeder. Photo Courtesy of Ricca Newmark DesignCommercial kitchens have long been among the most highly engineered portions of any building. While changes to this space over the past 30 years have seemingly been gradual, it now appears that a number of converging factors will profoundly impact the design of commercial kitchens moving forward. Changes in eating habits, generational shifts, a shrinking back of the house, an increased focus on sustainable foodservice practices and an ever-growing list of other factors are facing designers and operators as they specify foodservice equipment and design kitchens that can withstand the tests of time.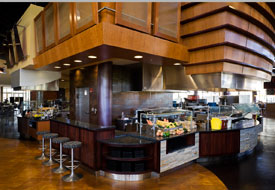 Please note here that in the above description the net result is that flexibility in menu construction and equipment selection and placement will go hand in hand in a kitchen designed to maximize efficiency.  While your restaurant or food service experience may be different, look to the underlying constants that may apply to their success here. Being able to move equipment around and change current menu items means overall design and proper restaurant equipment will have a direct correlation with the equipment you decide to select for your next purchases. Having that ability to change menus really connects with where the millennials are headed. You don't have to offer them everything, but what you do offer them has to be delicious, pleasing to the eye, and varied to keep them coming back. Unless you are a café style, or family service venue, it is possible that at some point you could consider smaller plates and, eventually, smaller kitchens, restaurants and foodservice environments." Featuring different approaches could be considered in a bar area, or a special room set up for those types of services.
Menu and eating habits are also up for consideration as you move into 2013 for your new food service equipment purchases and menu selections. Hospitality moguls like A.J. Barker tell us that people want to recognize their food. If it's broccoli, it should look like broccoli. But even more important it should taste wonderful and prepared to perfection. Quality is everything, so proper preparation will be critical to achieve this goal.
Another worthy goal of your next purchases should be preparation of healthy foods. Quality foods continue to impact foodservice design and equipment selection. Even food preparation areas are changing because of sustainability and the farm-to-fork movement.  It will be the fresh ingredients you purchase which will drive your demographic and the size of your prep area. With allocation of more space for vegetable washing and prep but less square footage for cooking, your kitchen will run more efficiently and force you to balance priorities between freezers and refrigerators. New combi ovens are designed to simplify this transition and helps to get you more flexibility in the kitchen by increasing capacity out of the same footprint.
Healthy eating plays a huge role on the consumer side. Your frequent diners can now embrace diversity when it comes to dining. With most diners, they now have more sophisticated tastes, and top industry professionals are seeing that reflected on the menus.  One example is Tarah Schroeder, LEED AP, project director and director of sustainability for Ricca Newmark Design in Greenwood Village, Colo. "I have seen kitchens change dramatically to follow these evolved menus on the institutional level."
That said, many consumers are becoming self-proclaimed "flexitarians,"  which really means  they occasionally choose to eat a vegetarian meal or diet. Since most consumers who look to dine out are increasing, most are much more open to different foods now than before. At the end of the day, the menu has been changing dramatically in the past few years. They are more globally or ethnically inspired and may elect now to  take standard menu items and add an ethnic twist to it. That would be a big yes here in Texas for sure.
Now you may be wondering if this attitude really effects your business and the selection of the types of equipment you may be purchasing. Main Auctions thinks that it does. Equipment items like Tandoori ovens, planchas, charcoal grills, wood fired ovens etc. are all indications that times they are a changing as far as diversity in types of food preparation. Another change is the interest in culinary exploration continues to impact consumers' dining patterns. We believe that people no longer come to the same restaurant every Thursday and eat the same thing. Today it's more of a cultural thing. Consumers think in terms of do we want Italian, Chinese or let's try those new appetizers like Tapas everyone is talking about. From youth to the retired couples, people now chase the trendy, new restaurants or grills right in their own neighborhoods to save time and gas. And that's yet another reason why you have to plan for the lean footprint.
What is that new lean-footprint? It's not really new if you have been around for a while. This concept is far from new to the foodservice industry, but its definition tends to vary widely. Some foodservice professionals focus on equipment size and natural resources consumed, while others focus on employee headcounts. Still others incorporate food waste and building size into the lean-footprint equation. Then there is the Holistic approach, and the lean employee footprint; and hey is that a lean carbon emission footprint?
Main Auction Services is here to provide you with the ability to be flexable in meeting the demands your current demographic you are hoping to draw for a pleasant dining experience.  We believe that it is the all-around practice of making sure you can deliver on every front that will help you be a success in your neighborhood, restaurant location, school or institution.
Brand awareness through skill in delivering to your diners will be reflected in how often and who they bring when they visit. The key to successfully implementing a lean footprint, quality food, and proper food service equipment will be in balancing the experience with operational efficiency, and not compromising either. If you know what you are going after and what you want to provide you have to make sure what you are giving your clientele is what you promised. Old school only thought  was food is cheap, and people are cheap, and everything else is an expense. Nowadays, everything is an expense.
Let Main Auction Services help you prepare for the new dining experience and help you to design and plan for purchases that will ensure your success. Give us a call right now, a qualified member of our staff is waiting 972-642-0513 in Grand Prairie, or 713-690-1231 in Houston.