Profit Building Summit
Restaurant Innovation Join Us In Dallas!
Save The Date! - November 7-8, 2018 The Empire Room Dallas Texas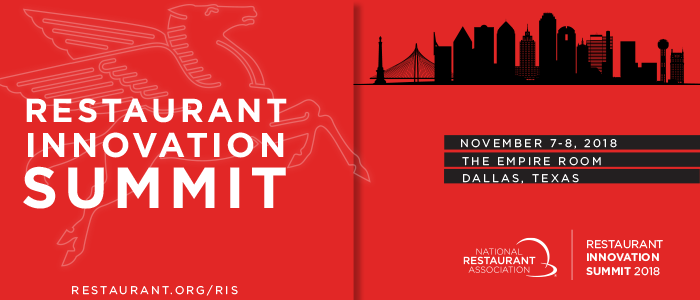 Register now for a summit filled with mind-expanding, profit-building insights into where restaurants are headed and advances you can apply today. Streamlined into an intense two days to fit your schedule, RIS 2018 takes place in the cool, industrial-edge The Empire Room, located in Dallas' trending Design District. Also included in the summit is the chance to connect, network and chill at select special events (think Dallas Cowboys AT&T Stadium!). Some events are first come only, so use the tech at your fingertips now to register, a great value at only $399 for National Restaurant Association members.
Join other innovation-focused senior to C-level leaders from restaurant categories including big brands, casual, fast-casual, family dining and quick service to learn how to elevate the guest experience, maximize operations and stay ahead of trends in technology.
Registration is open to restaurant operators and those who work for restaurant or hospitality companies. If you are a product or service provider, you are welcome to attend the summit as a sponsor. Click on the link in this paragraph to register now.