Optimize Kitchen Efficiency
Leveraging Inventory & Sustainability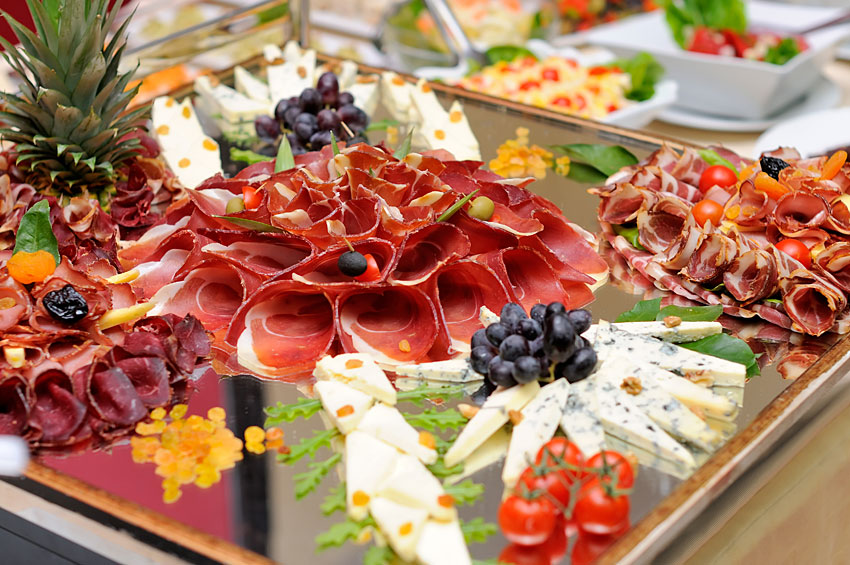 Take a look at this photo above. Meat, cheese, fruit, vegetables and dried fruit right? What if we said each of these items is used in at least 3-5 of the dishes on our restaurant menu. What a great way to increase profits, and keep waste to a minium. Waste reduction can help restaurant managers minimize cost by understanding the importance of cross-utilization of ingredients. Have you ever thought your menu can be your best cost saving strategy which will also increase sales, enhance kitchen efficiency and sustainability and a tool that provides ongoing savings every quarter? Of course your next question is how right. Let's explore this vital common sense technique to control food costs.
Cross-utilization - Staff can use ingredients that will help minimize costs and leverage inventory as well as providing increases sustainability. There has never been a greater time to focus on these measures and restaurant owners and managers are taking a new look at the importance of multi purpose ingredients on your menu, specials, and special event offerings.
Restaurant tools will motivate and drive profitability when used properly. Dean of business management programs at Institute of Culinary Education Stephen Zagor says
"Especially in this day and age, when wages are going out of sight, you've got to look for every potential way to control food costs, and cross-utilization is one." One of the keys to success, he says, is to think of the restaurant kitchen as a manufacturing operation where all inputs are optimized for efficiency.
"To be a good manufacturing company, you have to have a process, and the process has to be relatively the same, with limited supplies to fall through the cracks," says Zagor. "It takes away a little bit of the glamour, but turns it into a profit-based business, which is really what it should be."
Restaurant owners must accept new challenges to effectively use cross-utilization by finding creative new uses for ingredients, without adding to labor costs or disrupting systems. A few of the suggested tips for implementation of cross-utilization require pre planning for success. Thinking ahead by identification in use of ingredients starts the process. The challenge to find 3 uses for any given ingredient on the menu begins the evaluation of process. After proper examination, in turn eliminate at least one ingredient, and eliminate a source of anything that can drive up overall costs. Single item ingredients often fit that bill since they are only in one item on the menu.
In addition to the first step, the second should be making those 3 new items best sellers. Overall volume is key to keeping the cost down. Let's think about salad dressings as an example. A salad dressing, for example, can enhance a variety of salads, sandwiches and wraps, but could also introduce an interesting flavor as a marinade, and could be used as a dip for a range of foods, or even serve as a creative topping for a pizza. This could be applied to raw items as well as prepared ingredients too.
The ever popular Ranch or Italian dressing varieties are commonly used as a dip for pizza in some parts of the country, and some operators drizzle dressings on top of their pizzas to create a unique and unexpected flavor. Individual personalization is one way to encourage different combinations when using toppings used for pizza for instance. Salad dressings like ranch, fig balsamic and spicy Italian are common among finishing sauces. While types of dressings may vary they can also be used as dipping sauces for chips, pita, pizza rolls, vegetables, or fries as well.
Vegetable appetizers can pair well with salad dressings as dips. Even the Association for Dressings & Sauces, for example, suggests a salsa ranch dip made with four parts salsa, two parts ranch dressing and one part whipped cream cheese, along with some fresh diced jalapenos for some extra kick.
Another option for additional ingredients are quick and easy marinades. Dressings are also ideally suited to be cross-utilized as marinades for a variety of meats, poultry and seafood either baked, roasted, or on the grill. They often contain sugars that aid in caramelization, vinegars that help tenderize meats, and oils that can help meats retain their moisture, all while adding flavor to the finished product. Italian dressing is probably the most common marinade, but Caesar dressings, vinaigrettes and others can also work just as well.
Thinking outside the box, consider that a number of dressings can also be used to make a base coating for fried chicken before it is dredged in flour and batter. Foodie website the Daily Meal says creation of a dressing or marinade as a bath for chicken can add flavor, moisture, and ease of preparation. Cooking methods aside, sustainability is an option when versatility of a single product could be grilled as an entree, deep fried as an offering, smoked and cured as a salad topping or single item to be used on another prepared veggie or main entree. Since dressings or marinades are a highly perishable item, but can be used quickly in each setting everyday. Soups, stews, salads and sauces are also new considerations in re purposing ingredients across the menu and would be a key to fast casual success in proper cross-utilization.
Main Auction Services understands that cross-utilization is at the heart of many successful restaurants by allowing customers to select from among a handful of ingredients to create dishes in various forms, such as wraps or bowls. It's a strategy that simplifies inventory management and allows operators to order items in larger quantities. Management operations is critical to managing waste, promotion of a theme, and promote additional usage as well.
Every great restaurant operation is run with systems, preparation, lots of hard work, love and central in keeping the right team moving forward for highest profits. Remember that Cross-utilization has taken it's place alongside nose-to-tail cooking and sustainable sourcing as an important tool in today's kitchens. By creatively and systematically making it happen, it can help to drive efficiency, sustainability, and profitability by reducing waste. Restaurant logistics can and must be streamlined to utilize ingredient efficiency and sustainability.
In closing, Main Auction Services invites you to consider: The cross-utilization of menu ingredients across multiple dishes helps drive profitability and can be an important element of a sustainability strategy. The more efficiently restaurant managers and owners utilize ingredients, the more streamline the current systems in place that do reduce waste. Also remember that the, the greater their chances to operate profitably, and the more profitability become the new normal and not old standby.
Call us today at any of our 3 locations in Texas: 1718 West Main Street • Grand Prairie, Texas 75050 • 972-642-0513, 2100 E Union Bower Road • Irving, Texas 75061 • 972-579-4612.
Whether you need to buy or sell one piece, or the contents of an entire restaurant, Main Auction Services is your resource for late-model restaurant, bakery and bar equipment.
Call today to speak with a restaurant equipment specialists. Equip your kitchens with the best the industry has to offer.