Restaurant Supply - Main Auction Services
Foodservice Packaging - Take Out Products
New Products Watch - Eco-Products Announces Vanguard, a brand New Line of Sugarcane Compostable Plates, Containers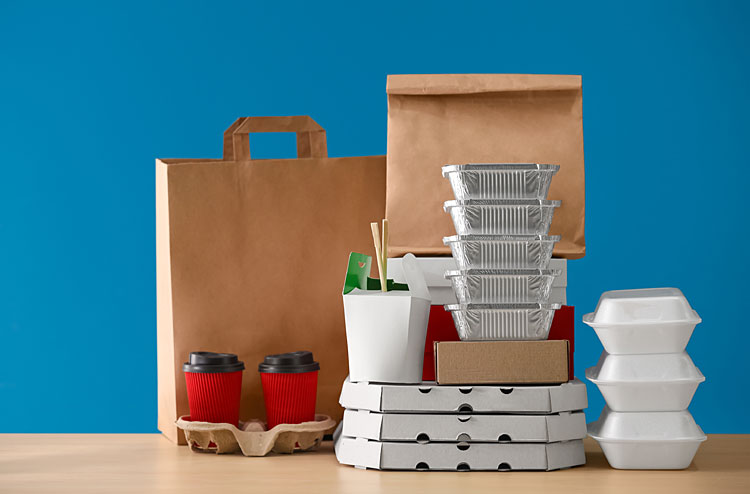 Industry insiders have been talking about engineering disruptive technology of container types in the realm of take out and prepared meals to take out. What does that mean to you the consumer of all things foodservice related? Does sustainable plates and containers constitute the idea of disruptive technology? If not, wrap your head around this for a minute. Using sugarcane to create take out containers like cups and plates and on top of that making sure they are compostable! What.....Take a look at the video below.
Eco-Products has announced a groundbreaking new line of molded fiber plates and containers for use in the restaurant supply and restaurant equipment fields. This new line – called Vanguard™ – demonstrates the company's continued leadership and innovation in foodservice packaging.
Why is Vanguard disruptive tech? It is made from sugarcane, it's microwave friendly, and can be used for in-house or takeout because it is effective in both hot and cold applications. Wow! In addition, the Vanguard™ line is also water and grease resistant. It has been designed to meet the forthcoming requirements of the Biodegradable Product Institute for compostability certification that will go into effect on January 1, 2020. Talk about being ahead of the curve, let's here more. . .
"Our goal has always been to provide a breadth of options for foodservice operators looking for environmentally preferable packaging," said Sarah Martinez, Director of Marketing for Eco-Products. "The Vanguard™ line of products is another proud addition to our offering."
The Vanguard™ line is engineered specifically by proprietary alternative compounds to achieve grease-resistance performance. Creating the Vanguard™ line took more than a year of testing and their Eco-Products all have patents pending on the new formula they have brought to the market.
Eco Vanguard has in it's initial line, made available in a limited release, some of the most common daily needs for all restaurants. The 10-inch round plate, a three-compartment 10-inch plate, a 9-inch single-compartment clamshell and a three-compartment 9-inch clamshells. A select group of customers is currently testing the initial run and it is the current understanding that more products will be added soon, including bowls and other sizes of plates and clamshells.
"This is one more way we're able to deliver benefits to our partners that are unavailable anywhere else," Martinez said. "We're thrilled to offer our customers another choice in foodservice packaging, and we expect this innovative new line to be very popular and in high demand."
Eco-Products, has made a connection between the health of the planet and the impacts of disposable packaging. Their vision employs what we all hope to achieve with every new day and that is to work towards goals to advance Zero Waste systems, and in turn be able help all foodservice customers because they are offering better stewards of the environment. Sustainable disposables may really sound like an oxymoron, however, in the market of restaurant supplies in a consumer culture where disposable products are ubiquitous; this sustainable has taken the industry by storm and it doesn't appear that they are not going anywhere in developing items the industry needs. And they aren't going away any time soon.
What does this mean to you a restaurant owner? Having options to become a part of an incredible opportunity to help change the world—and more importantly each of the local communities we serve—by making sustainable disposable products that shift an industry. By their own admission they say they are the most recognized and authentic brand in sustainable food service packaging. As category leaders with an exclusive commitment to environmentally preferred packaging, they will be able to deliver benefits to our industry partners that are unavailable anywhere else on the market.This in and of itself is a very competitive claim.
We buy restaurant equipment and sell your restaurant equipment as well as provide the nations leading brands of commercial kitchen and restaurant equipment to ensure that you have the opportunity to bid on the best quality in refrigeration, furniture, cooking equipment, bar supplies, sanitation supplies, food preparation equipment and dining room essentials through Main Auction Services' online auctions.
1310 West Main Street • Grand Prairie, Texas 75050 • 972-642-0513 2100 E Union Bower Road • Irving, Texas 75061 • 972-579-4612