Top 2019 Food & Beverage Trends
NRA's culinary trend predictions for 2019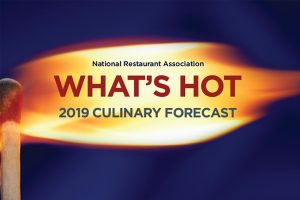 The best food trends in the industry include your restaurant, cafe, formal dining events, catering options, and can be a very big part of this years success. NRA is behind you 100% in determining down to the last pot and pan what your foodservice goals should be, and must be taken into consideration to be successful in your city. Keeping current food trends on the menu means you will have maximum exposure to new business every year. A reputation in the Food Service Industry is created by great tasting quality food, as well as trendy societal dining trends.
"The National Restaurant Association in collaboration with the American Culinary Federation has released its annual chefs' survey of menu trends. The report covers individual categories and summarizes the top trends for the year. This year, cannabis/CBD infused drinks and food top the list.
Nearly 77 percent of chefs surveyed for our What's Hot Culinary Forecast ranked cannabis/CBD-infused drinks as the No. 1 trend for 2019. Seventy-six percent tapped cannabis/CBD-infused food as the second most popular.
The annual survey asks chefs to identify food and beverage trends for the coming year. Chefs ranked 140 items — from all-day breakfast to zero-waste cooking — as "hot," "yesterday's news" or "perennial favorite." The resulting What's Hot Culinary Forecast predicts the food, beverages and culinary themes that will be the talk of 2019.
"The Association's 2019 What's Hot report reflects contemporary consumer cravings in tandem with emerging societal dining trends," says Hudson Riehle, senior vice president of research for the National Restaurant Association. "We're seeing a more eco-friendly perspective and greater emphasis on global flavors/cuisines as well as enhanced availability of healthful items/children's meals and the exploration of new food sourcing options."
The survey indicates that Americans crave foods that not only nourish them but also help sustain the planet. Plant-based and veggie centric foods are no longer just for vegetarians. In fact, three of the 15 hottest items are plant-based sausages/burgers, veggie-centric/vegetable forward cuisine and plant-based proteins. Hyper-local sourcing, including restaurants that grow produce in their own gardens, also made the Top 10 list."
Top trends for 2019
Cannabis/CBD oil-infused drinks.
Cannabis/CBD oil-infused food.
Zero-waste cooking.
Globally inspired breakfast dishes.
Global flavors in kids' meals.
Hyper-local.
New cuts of meat.
Veggie-centric/vegetable-forward cuisine.
Chef-driven fast-casual concepts.
Craft/artisan/locally produced spirits.
Restaurant owners, if you are considering purchasing used commercial kitchen equipment to make menu changes, Main Auction Services invites you to visit our showrooms and check out all the restaurant equipment we make available to you. You can purchase through auction, through our supply store, or even purchase new commercial kitchen equipment at any time. Please call us today and speak with an experience sales staff member about your current used and new commercial kitchen equipment needs.
Restaurant kitchen equipment is what we do best. Call us today and speak with a qualified staff member for all your commercial kitchen equipment, restaurant furniture, and restaurant bar and restaurant supply needs.
1310 West Main Street • Grand Prairie, Texas 75050 • 972-642-0513 2100 E Union Bower Road • Irving, Texas 75061 • 972-579-4612