Main Auction Services, Inc., buys and sells the latest food service and restaurant equipment by the world's leading manufacturers such as Imperial Brown Food Service products.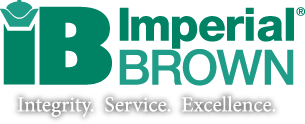 Imperial Brown® is one of the world's top manufacturers of custom walk-in coolers and freezers. Imperial Walk-in Coolers was established in Portland in 1970 by Al Zell to serve the commercial refrigeration industry by manufacturing the insulated panels used to build walk-in coolers and freezers. In 2012, Imperial Manufacturing of Portland, OR, acquired W.A. Brown & Son of Salisbury, NC, a 100-year-old walk-in cooler manufacturer, to form Imperial Brown. In a four-year period, the North Carolina plant grew from 40 employees to 130, with a $15 million increase in revenue.
In 2017, Imperial Brown acquired a third manufacturing facility located in Prague, OK, with plans to invest more than $1.5 million in new equipment in the plant within the initial two-year period of ownership. With locations networked on the East and West coasts and in the Heartland, we are positioned to serve customers promptly and cost efficiently.
Imperial Brown does refine products, using the most up-to-date materials and engineering expertise to provide world-class products. Their products withstand the most extreme temperature and weather conditions. The company is a leader in temperature management facilities for food service, biotechnology, medical and building construction industries. Imperial Brown does manufacture walk-in coolers and freezers for restaurants and commercial kitchens, cold storage components for fish processing plants, ice makers for dam construction, wide range testing chambers, pharmaceutical development and manufacturing, high humidity and dry chambers, robotic enclosures, and archival storage chambers for some of the most valuable and fragile documents in human history.
Imperial Brown's know-how and our whole-system flexibility allow us to offer products specifically designed for various applications. With our in house design specialists, Imperial Brown can customize a cold storage solution for your business and space. We also offer our hybrid design for certain applications which can help to reduce your costs.
Take a look at our product lines:
Food Service
Restaurants
Schools
Breweries/Wineries
Hospitals
Hotels
Food Production and Storage
Casinos
Stadiums
Commissaries
Grocery & C-Stores
More than just a walk-in manufacturer, Imperial Brown is your Customization Experts for designing cold storage solutions for restaurants, schools, hotels, hospitals, breweries/wineries, casinos, stadiums, commissaries, food production and storage, and many other applications.